Making the movie starshine
Making the movie star
shine
Adéquat
What we create.
Project type
Identity & Branding
Website
Skills
UX Design
Art Direction
Motion design
WordPress development
Adapted to SEO & RGPD regulations
Extranet
The briefing
The Adéquat Artistic Agency brings together the agents of actors, directors and authors who light up the most beautiful red carpets in France and around the world. It is even said that the famous Netflix series Ten Percent was inspired by this Parisian agency of stars. Adéquat, an illustrious institution, wanted to entrust Bien-Fondé with the reworking of its graphic identity and the redesign of its website.
The mission
How can the emotion that should emanate from an artistic agency be combined with the primary functions expected by representatives of the cinema and the performing arts?
Our answer
01. A reworked brand identity
02.

An emotion transmitted through interactions

03.

An extranet with advanced features
01.
A reworked brand identity
The visual orientation was naturally towards a combination of black and gold, desired by the Adéquat agency to reflect its seriousness and its belonging to the world of luxury. In addition, we opted for a minimalist universe, mixing photographs and typography. The animation effects bring the whole to life.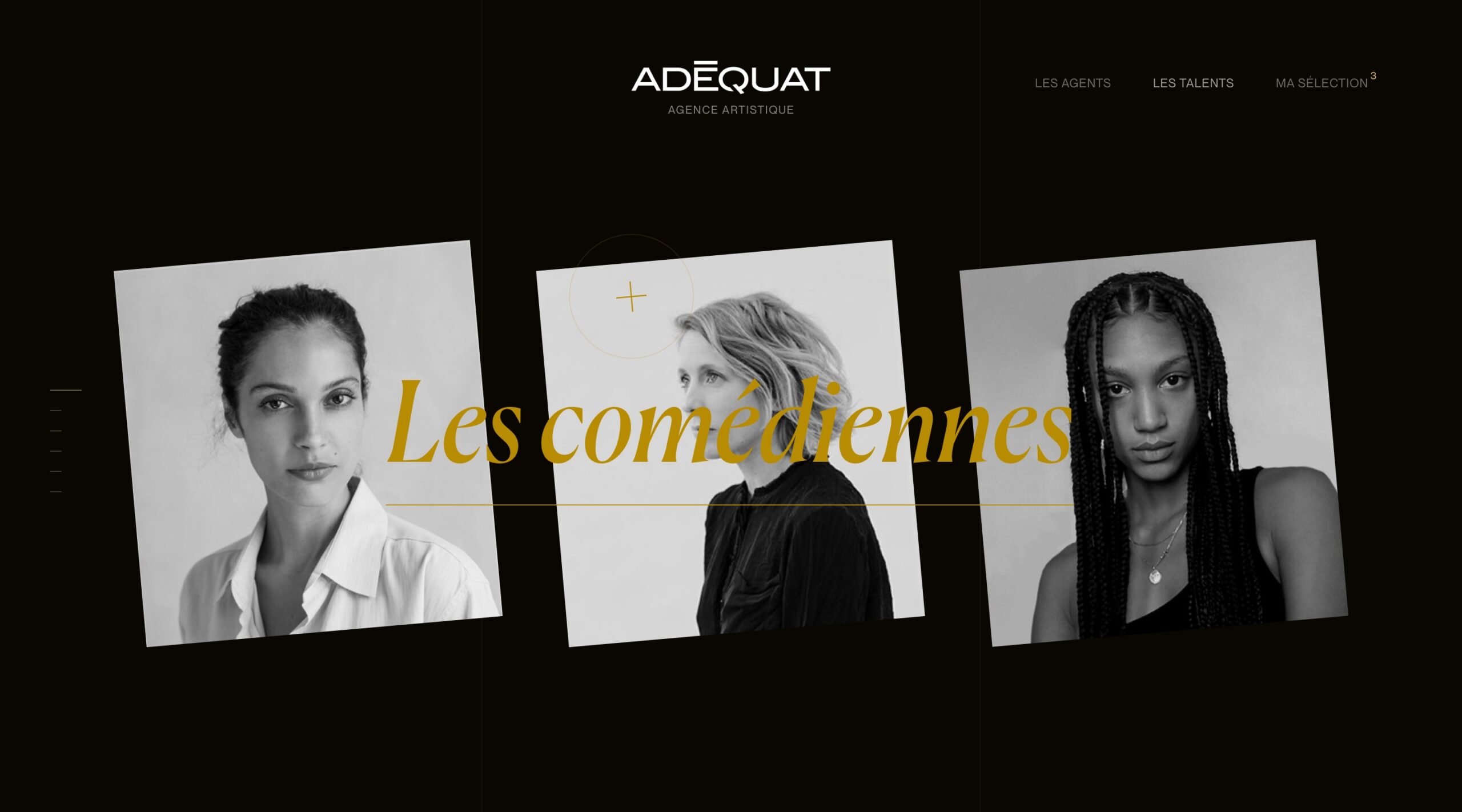 We created a graphic charter in the form of a UI kit allowing Adéquat to standardize all its media.
---
02.
A scenography of animations
The arrival on the site is marked by the animation of a countdown clock, an iconic symbol of cinema, to which is added an extract from the famous film Le Testament d'Orphée by Jean Cocteau. Immersed in the cinematic universe, the Internet user is then invited to connect to find out more.
In this continuity, the opening animation of the site's pages rises in a movement from the bottom to the top; a tribute to the famous curtain raiser.
The interface, sober and elegant, has been designed to transmit an emotion to those who consult it.
---
03.
An extranet with advanced features
Behind this muffled digital case lies a powerful technical machinery. Compatible with mobile, tablet and desktop, the website is protected by user access. Automated to the maximum, the Internet user has the possibility of making a request via a contact form.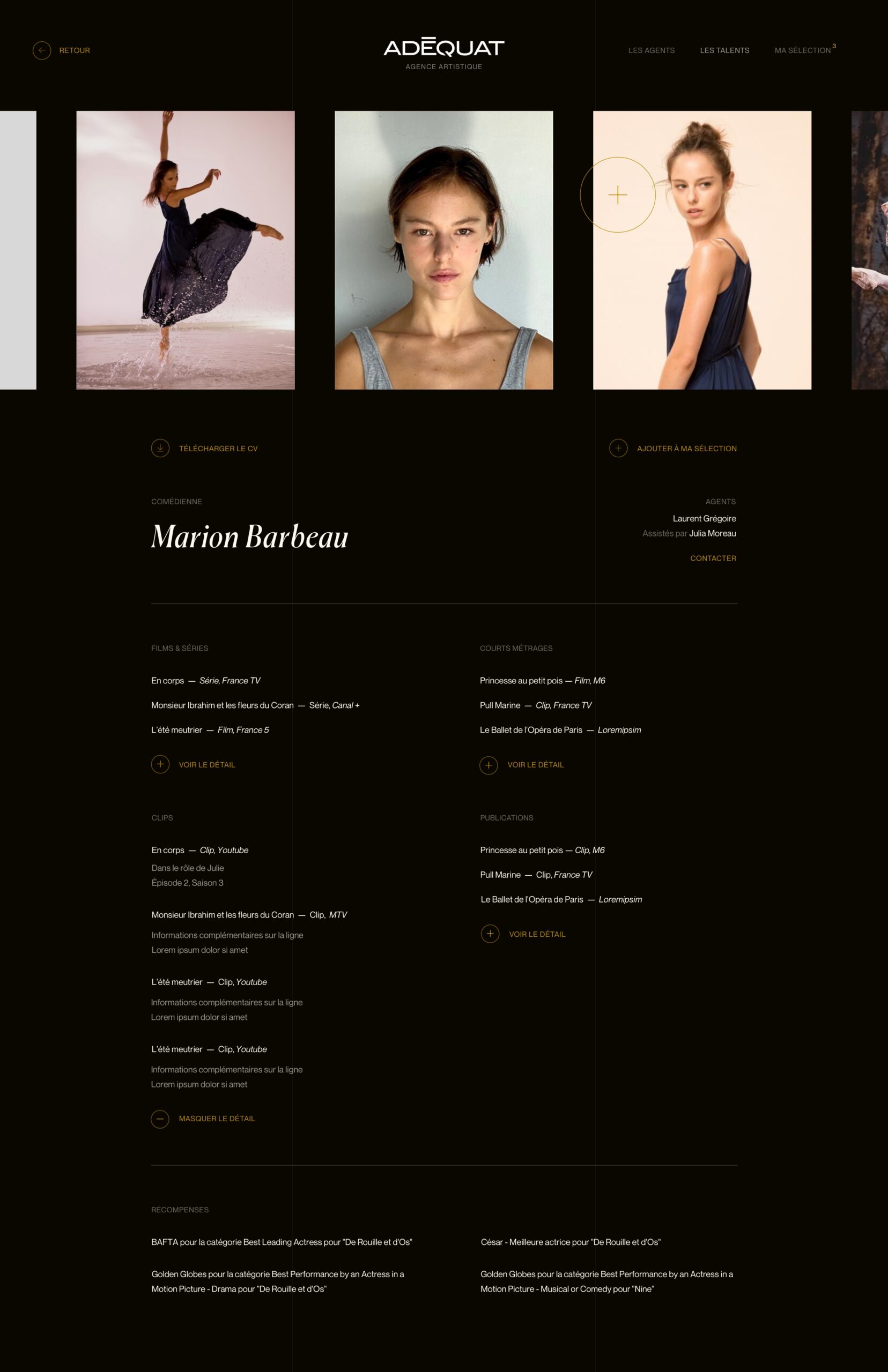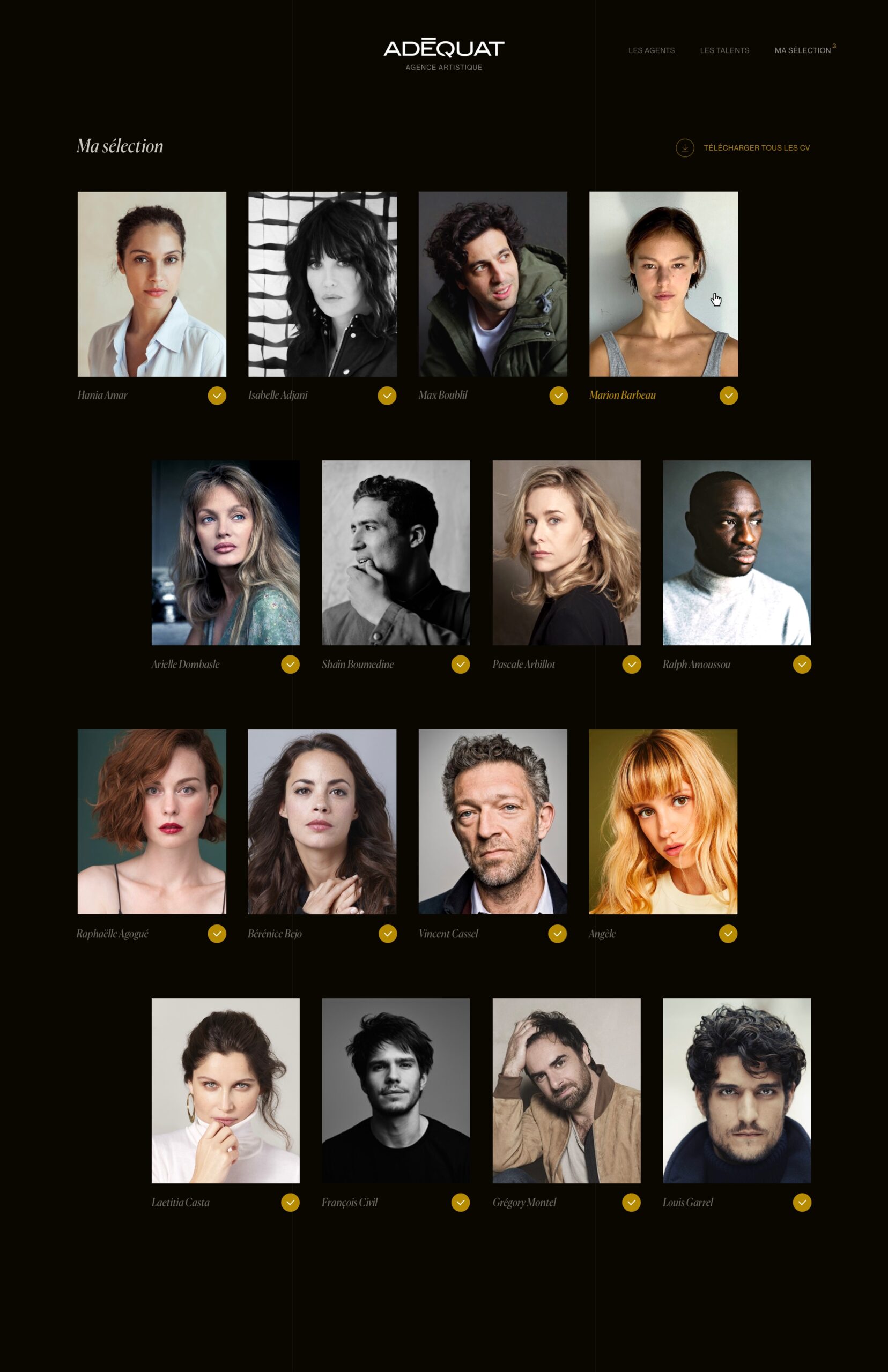 Once connected, they can search for the artist of their choice, add them to their selection, export their CV or contact their agent.
Connected to the Adéquat Agency's proprietary CRM, avoiding data entry errors, the data is updated daily and protected on a dedicated server.
Work
together
We put all our expertise at your service in order to carry out well-thought-out and well-executed projects alongside you. We look forward to meeting you.