Tell the story of thedomaine and its surroundings
Tell the story of the
domaine and its surroundings
Château de la Selve
What we create.
Skills
UX Design
Art Direction
HTML integration
WordPress development
The Briefing
Château de la Selve is a rather recent 40 hectare vineyard located in Ardèche – France. The Domaine is fully organic and biodynamic certified. They produce two different wines available in red, white and rosé. The estate also offers Bed and Breakfast services, as well as various activities in the countryside.
Château de la Selve asked the agency to create its new responsive website.
Our solutions
01. A fresh and dynamic new graphic identity.
02. Particular attention was paid to the product pages, lodgings and related activities provided by the estate.
We released this website un 1.5 months. To this day we report a high rate of visits especially when it comes to booking guest rooms or activities.
01.
a new fresh
and modern identity
This new website presents formative graphic codes that are inspired by the winery sector classics – a serif font paired with a sophisticated logo, using crimson as the main color... These elements are combined with modern and dynamic animations, which allow the user to discover the content vertically and horizontally.
02.
A full experience
from the interior of the château to its surroundings
The website enables the visitor to discover the Domaine's multiple aspects: its history and that of the region, the vineyard, the guest rooms or the many activities nearby.
---
idea #1
A journey through History
An animated timeline allows the user to learn more about some of the Domaine's key dates, from its origin to the present day.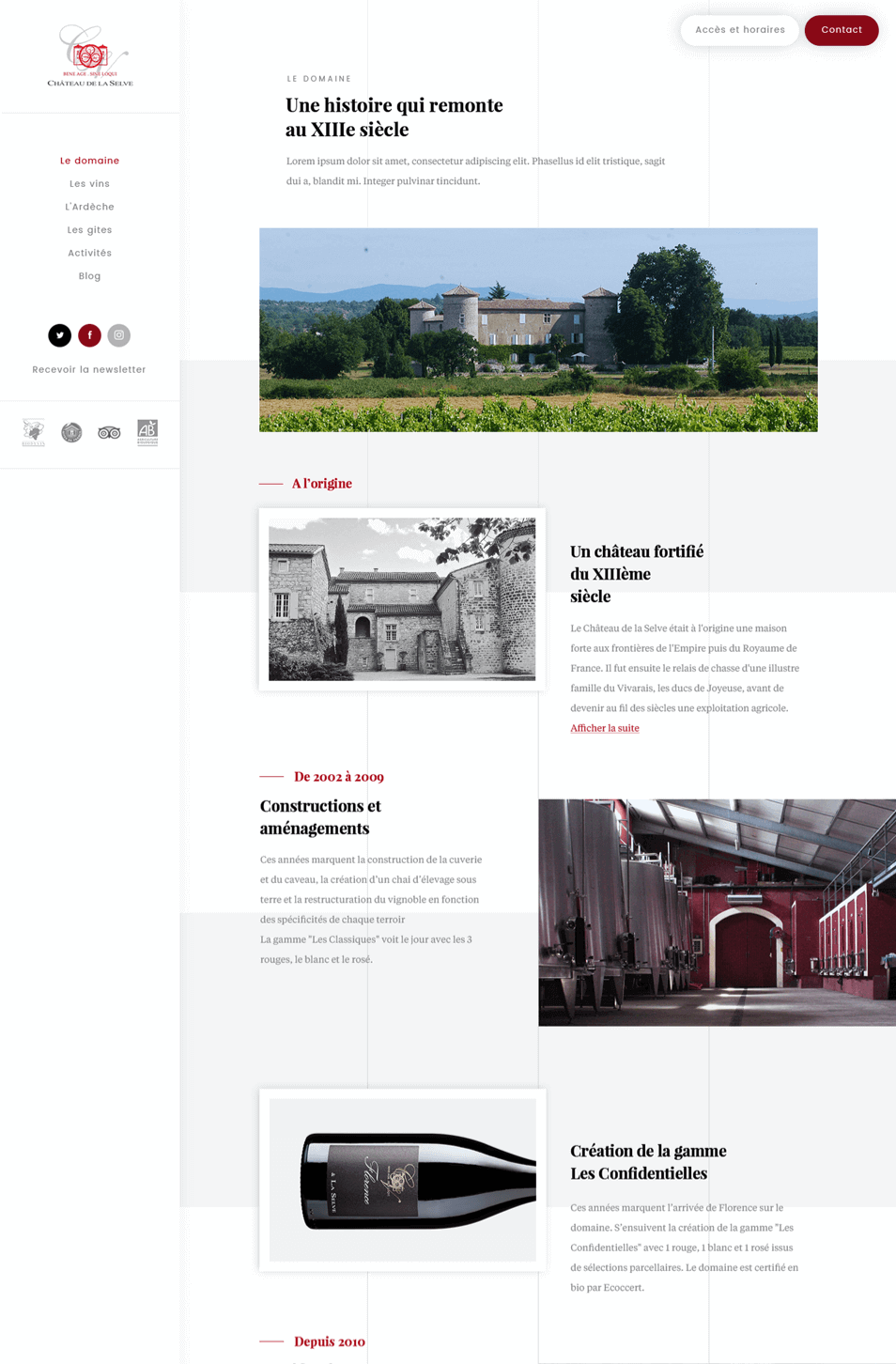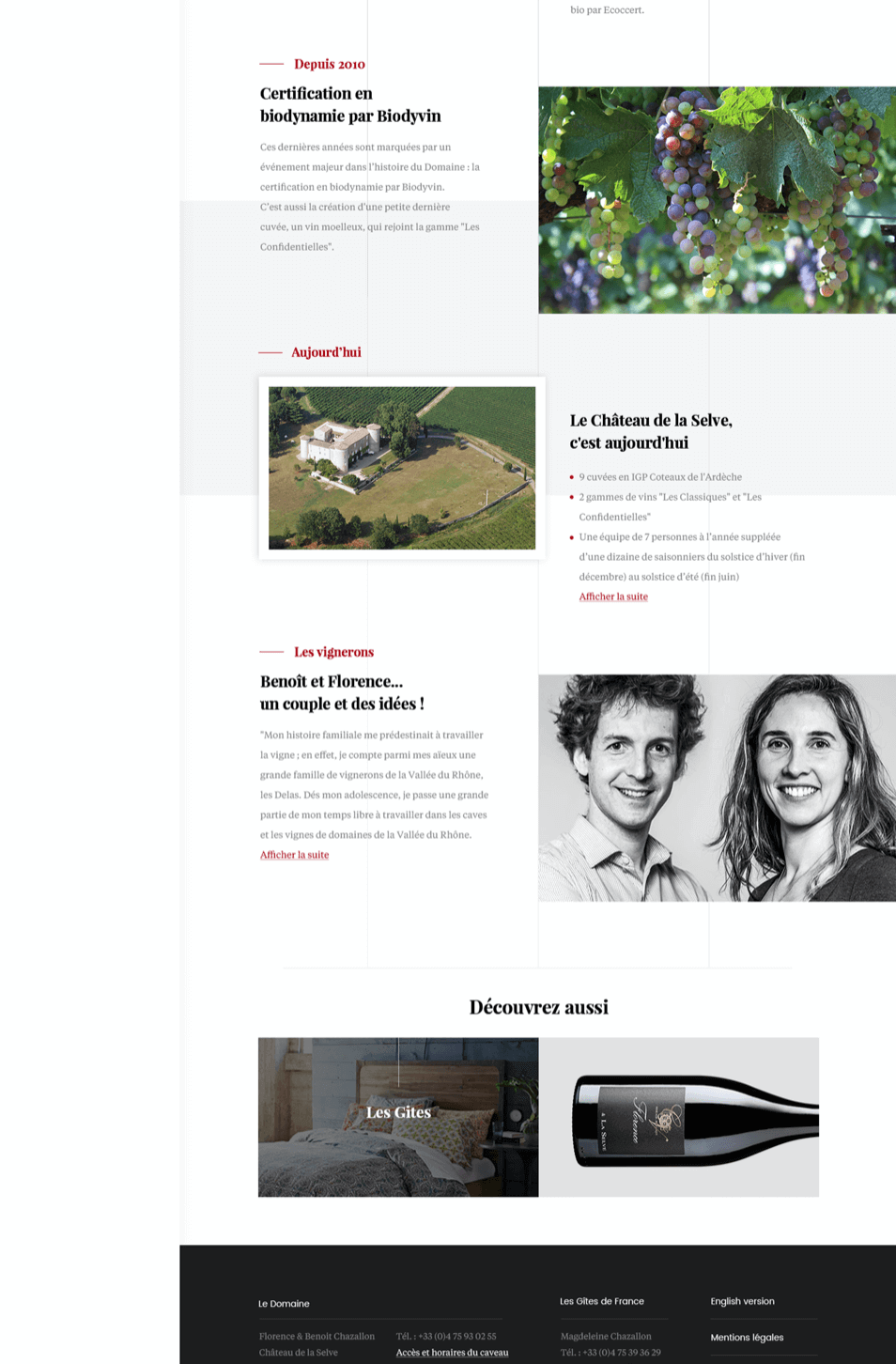 idea #2
An awakening of the senses
The products page displays the different wines with passion. Each bottle is staged as an art piece underlined by a colorful taste description, penned by the winemakers.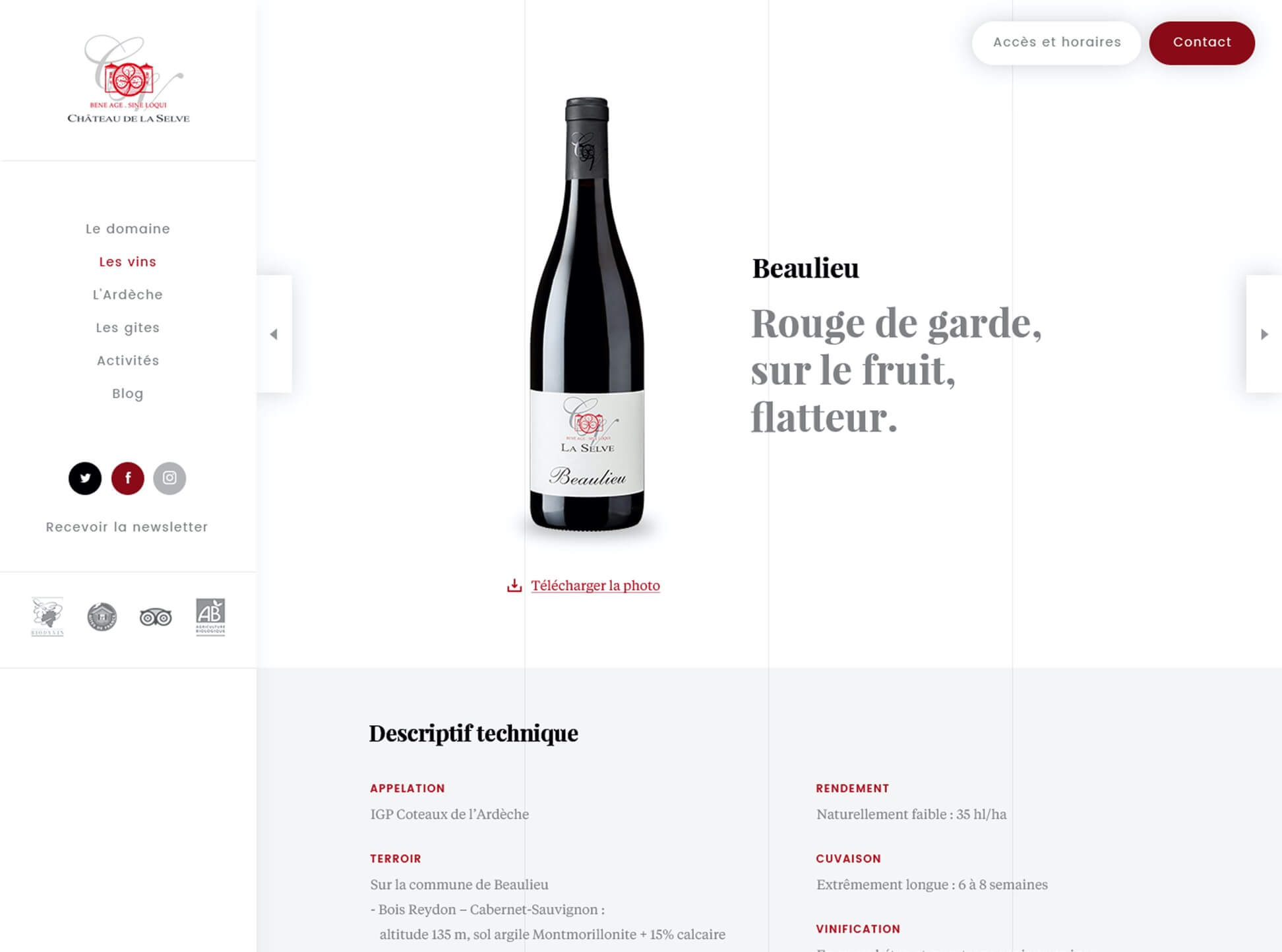 idea #3
Activity sheets to enlighten visitors about their potential trip
The creation of these detailed sheets presenting the activities available near the Estate aims at new visitors, people who would not know the region. All these activities can be booked online.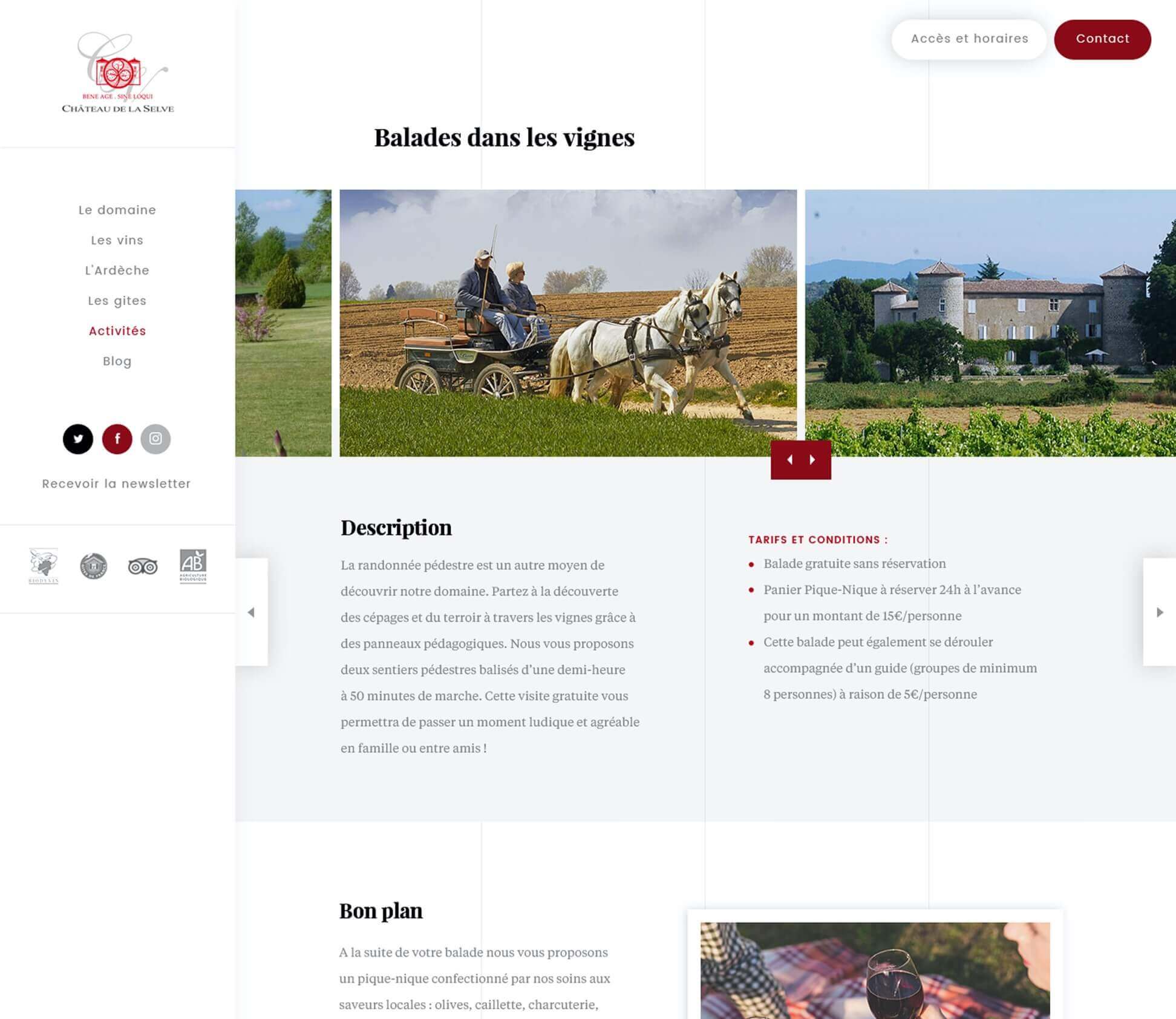 idea #4
The website is also mobile responsive.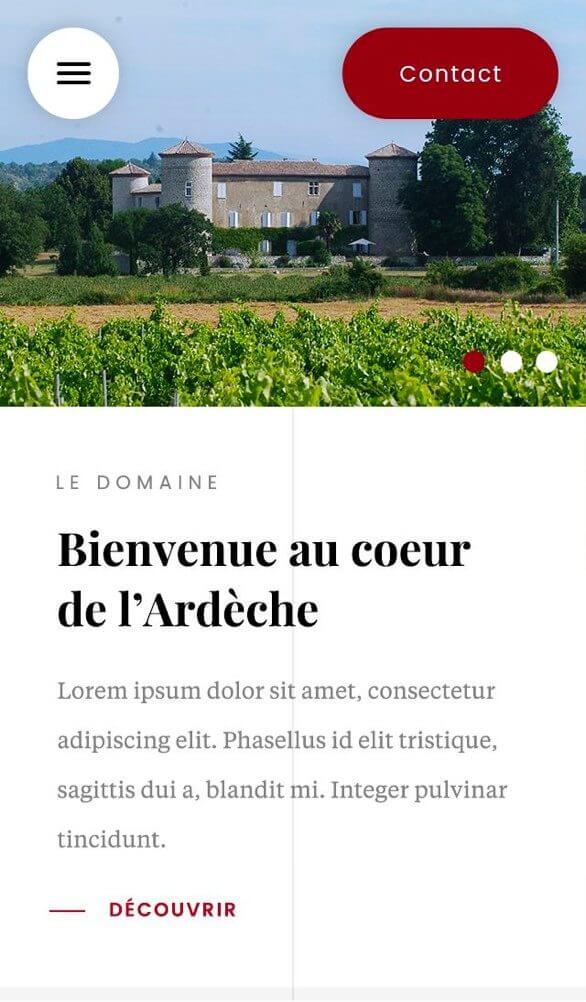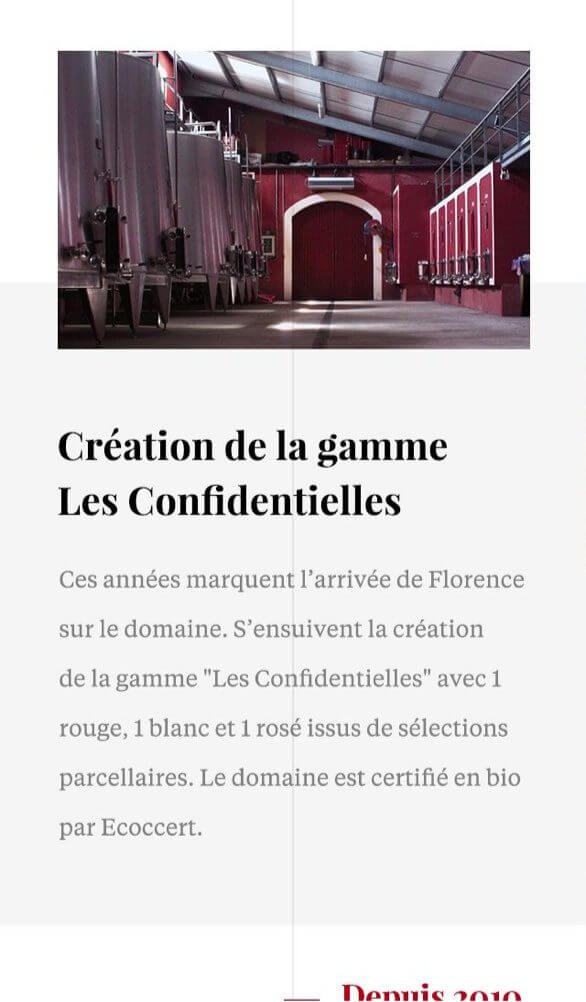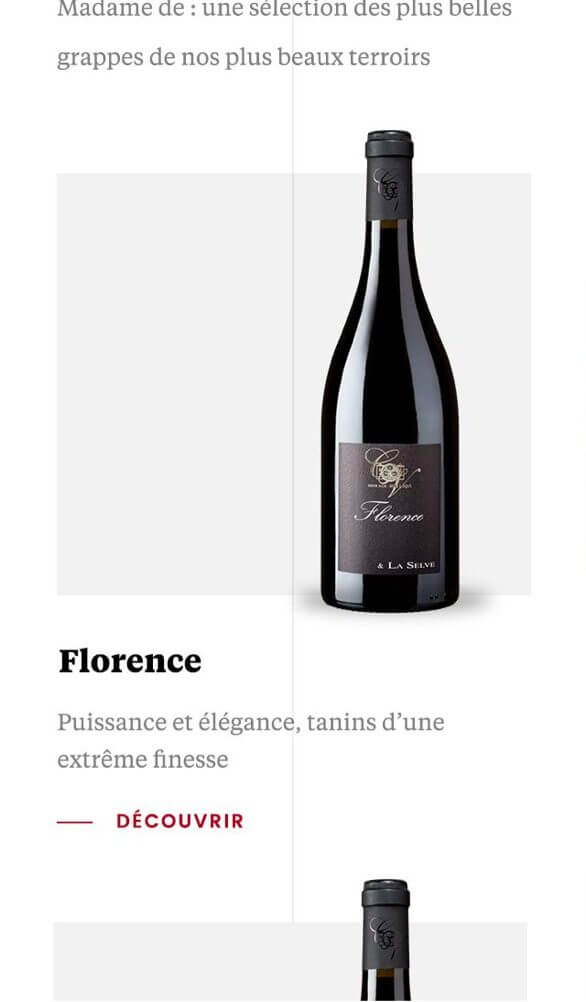 Work
together
We put all our expertise at your service in order to carry out well-thought-out and well-executed projects alongside you. We look forward to meeting you.