Creation of a
training plateform
Creation of a
training plateform
French National Federation of Hunters
What we create.
Skills
UX Design
HTML integration
WordPress development
Offline Connection
The Briefing
Being well aware of the necessity to supervise hunting in France, the French National Federation of Hunters (FNC) decided to provide people with education. Future hunters, wishing to get their permit can access a full range of contents such as training quizzes and exams. This section of the Federation's website had to be adapted to the new digital trends.
The mission
As mobile connections become increasingly important, how can we create a thoughtful, youthful, and UX-friendly design to cater to all trainees'  needs, as well as the FNC's new younger target?
Our solutions
01. A mobile platform, ready to go anywhere
02. A second specific version to train on your laptop
Result
With about 70,000 pages viewed on average per week, the training section is now the most viewed part of the Federation's website.
01
a mobile platform
ready to go
anywhere
While working on the redesign of the desktop version, the agency also designed a mobile platform dedicated to the hunting permit training. The app enables you to select timed training by theme (hunting, wildlife, laws, and regulations, etc.).
---
Idea 1
PWA technology for an app available offline, at any time
Progressive Web App (PWA) technology can upload up to 50MB of offline data. Hunters can start their training when they have a good signal and not be interrupted if it becomes weaker.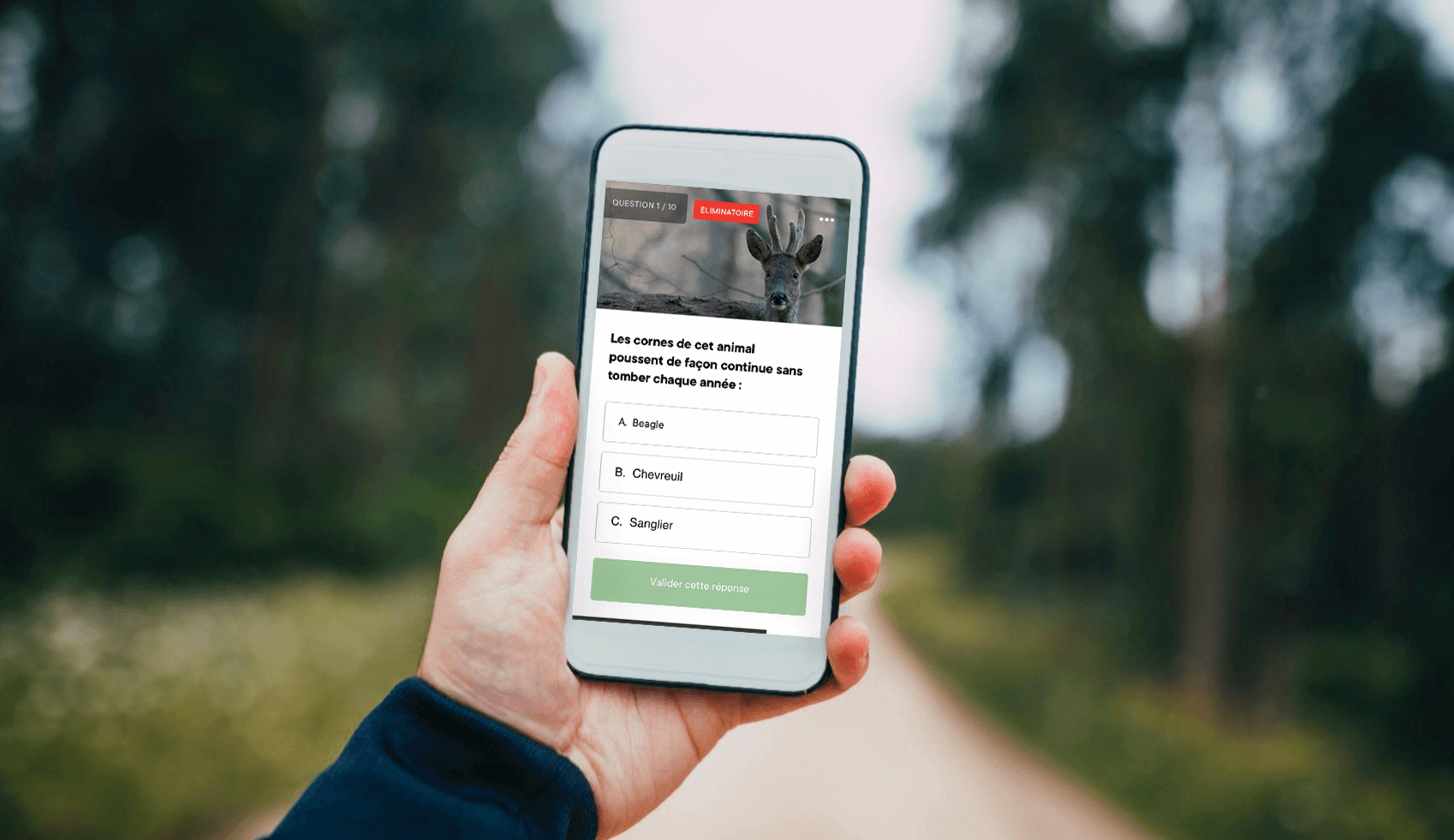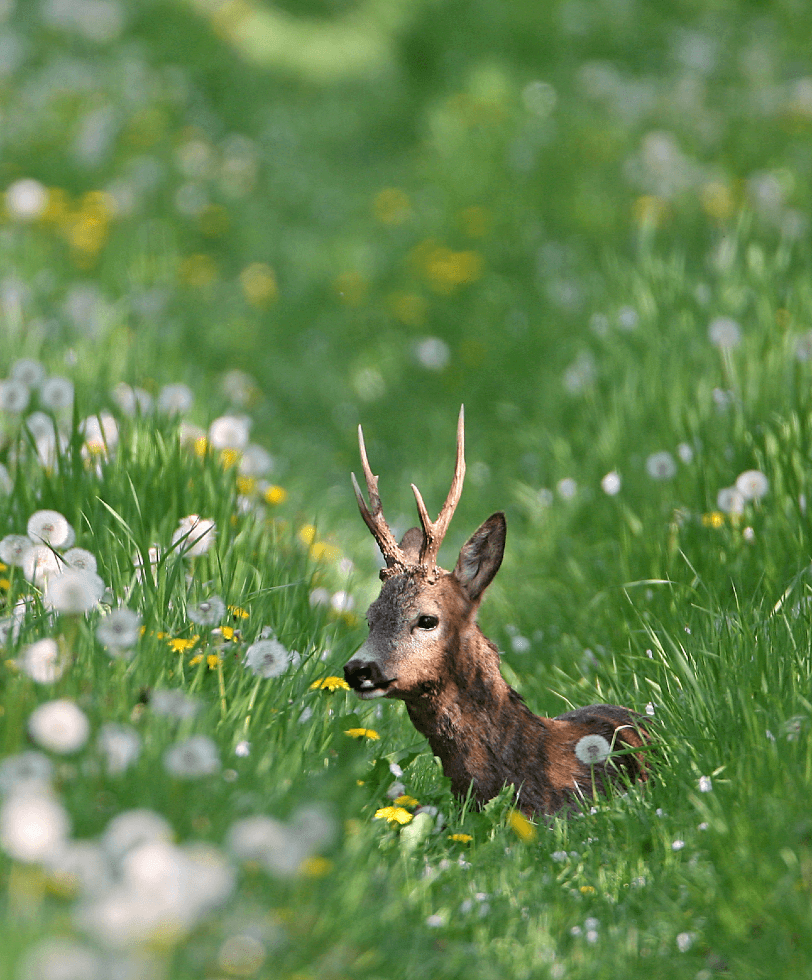 We made it possible to add a shortcut to the quiz as a native application, without having to go through the Android or Apple stores. This additional ergonomic trick helps to boost the connections to the FNC website.
Idea 2
Training series available with or without a stopwatch
The user can access various training sessions by theme: hunting, wildlife, laws, and regulations … Two training modes are then available: a non-timed "review" mode and a timed "exam" mode to test their knowledge under real-life conditions.
Idea 3
At the end of the test, the user can review his score and check how many correct answers he got.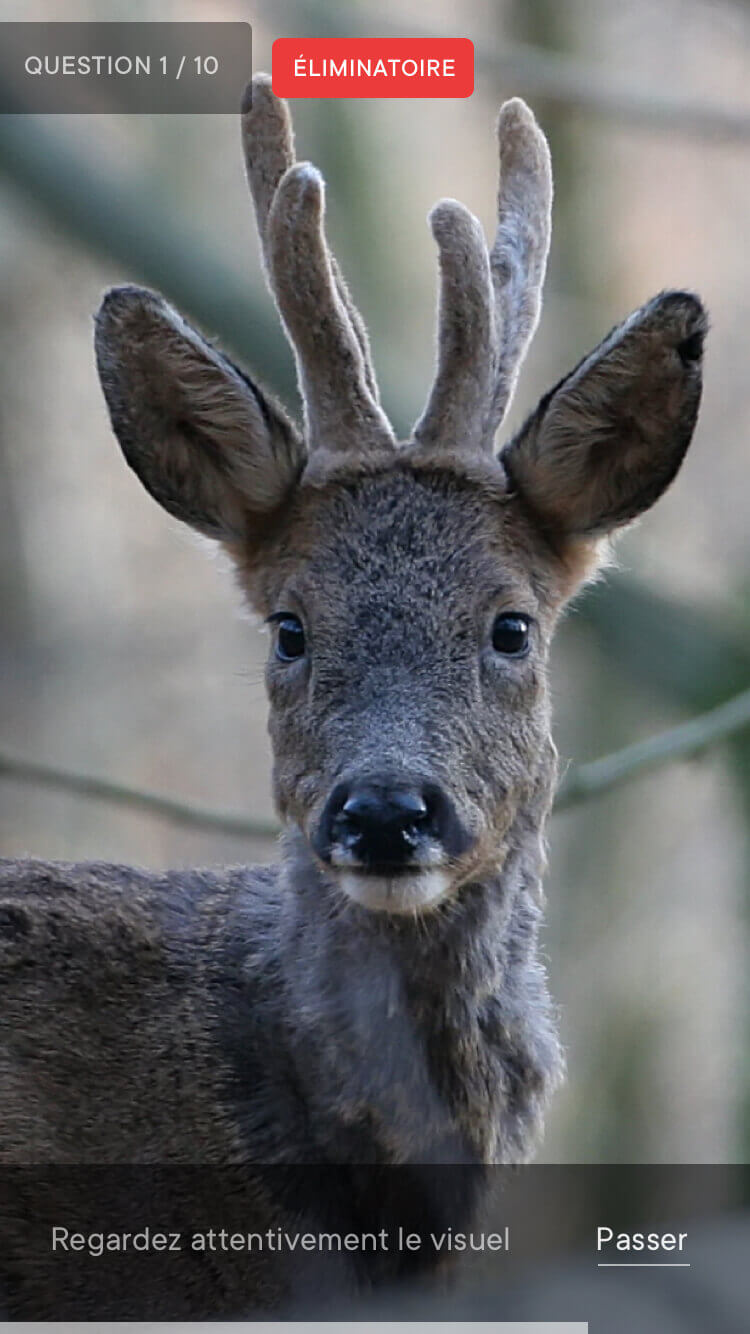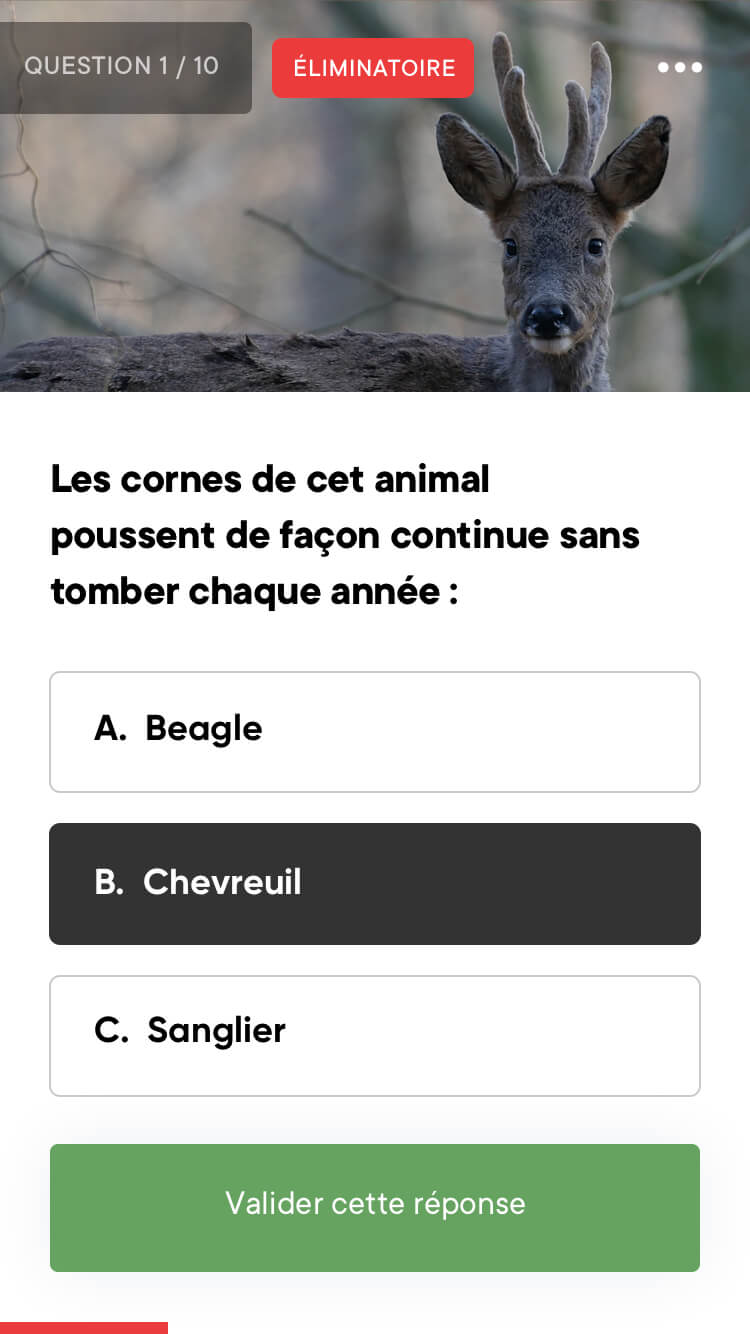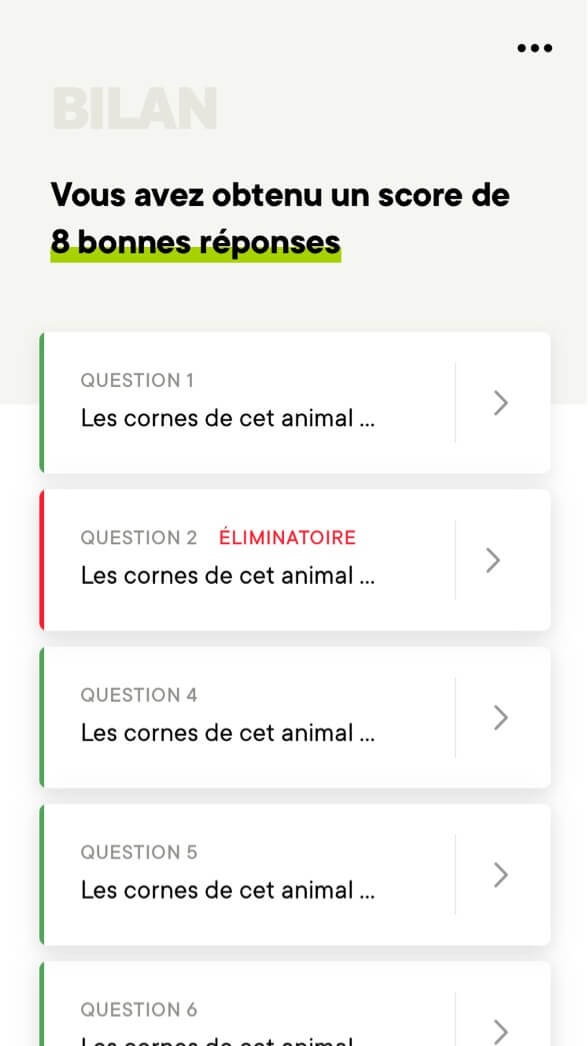 02
A second specific experience
available on your laptop
The hunting permit training is also available through a specific laptop experience.
The two versions, mobile, and computer, have been boosted on the same WordPress as the other sections from the website. This way, the Federation has only one administration site, which makes it easier for them to manage their content daily.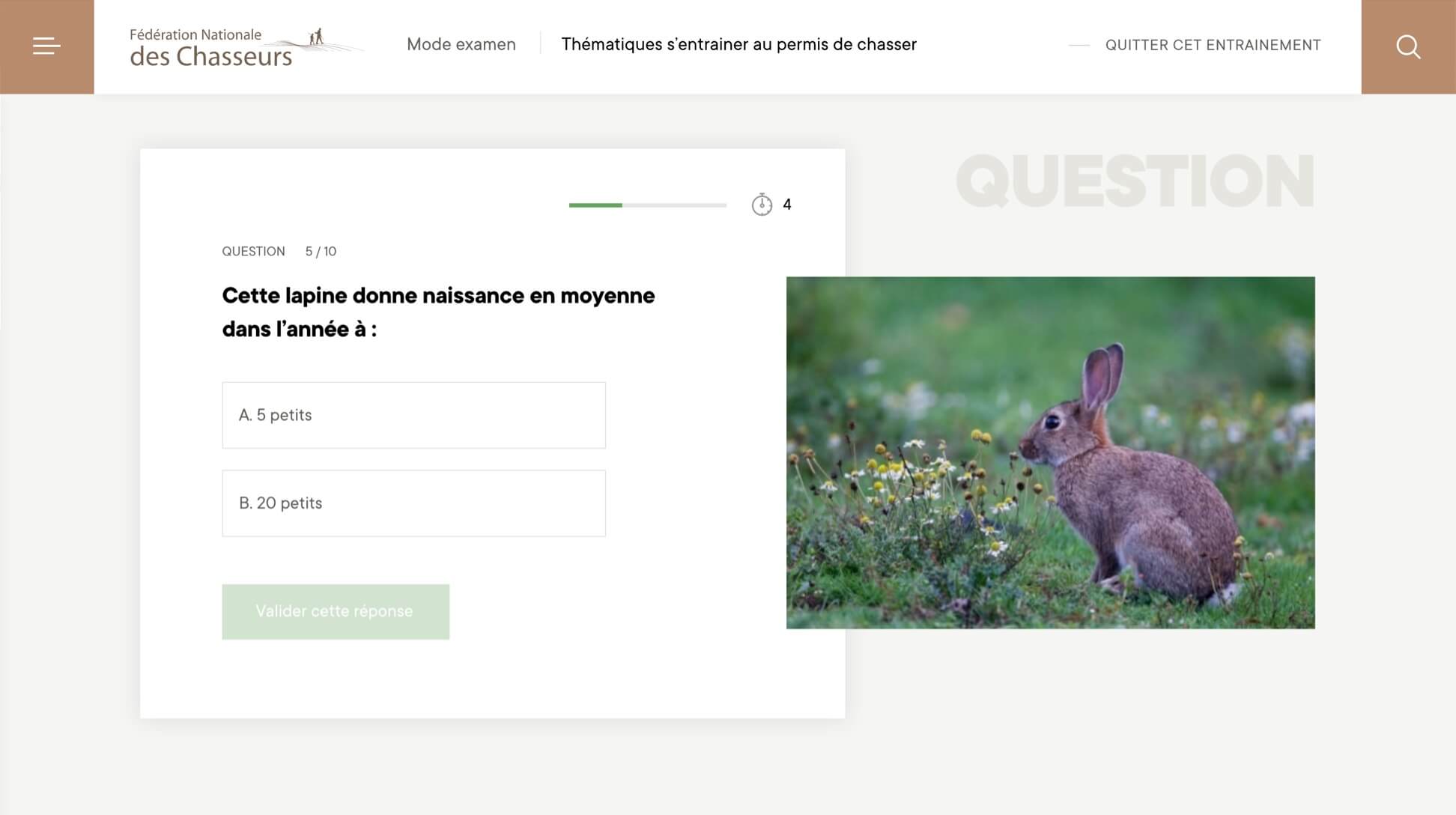 Work
together
We put all our expertise at your service in order to carry out well-thought-out and well-executed projects alongside you. We look forward to meeting you.