To build up
connections
with teachers
To build up
connections
with teachers
Casio
What we create.
Skills
UX Design
Art Direction
HTML integration
WordPress development
Salesforce interface
Adapted to SEO & RGPD regulations
The briefing
Dedicated to secondary and higher education, Casio Education offers a large range of calculators. They're the leaders in France and in Belgium, with more than 80% of market shares. Now the company has to adapt to new school programs and familiarize their clients with algorithmics and programming in Python language. Prescription through teachers is a major issue in this new context.
The mission
How to attract teachers and build up connections with this strategic target over time?
Our solutions
01. A graphic identity reminiscent of the mathematics universe.
02. A concept that sports tailored content for teachers.
03. Particular attention paid to the product pages.
04. Advanced technical management of teacher-related data.
Results
Two sites in one, released within 5 months. We have imagined a common structure for the French and Belgian markets, even though they have different product catalogs and contents.
---
01.
Suggesting
the universe of
mathematics
The structure of the new digital platform is based on an apparent grid, which hints at geometry plots and school notebooks. It also provides a strong aesthetic, while ensuring the responsive structure of the website.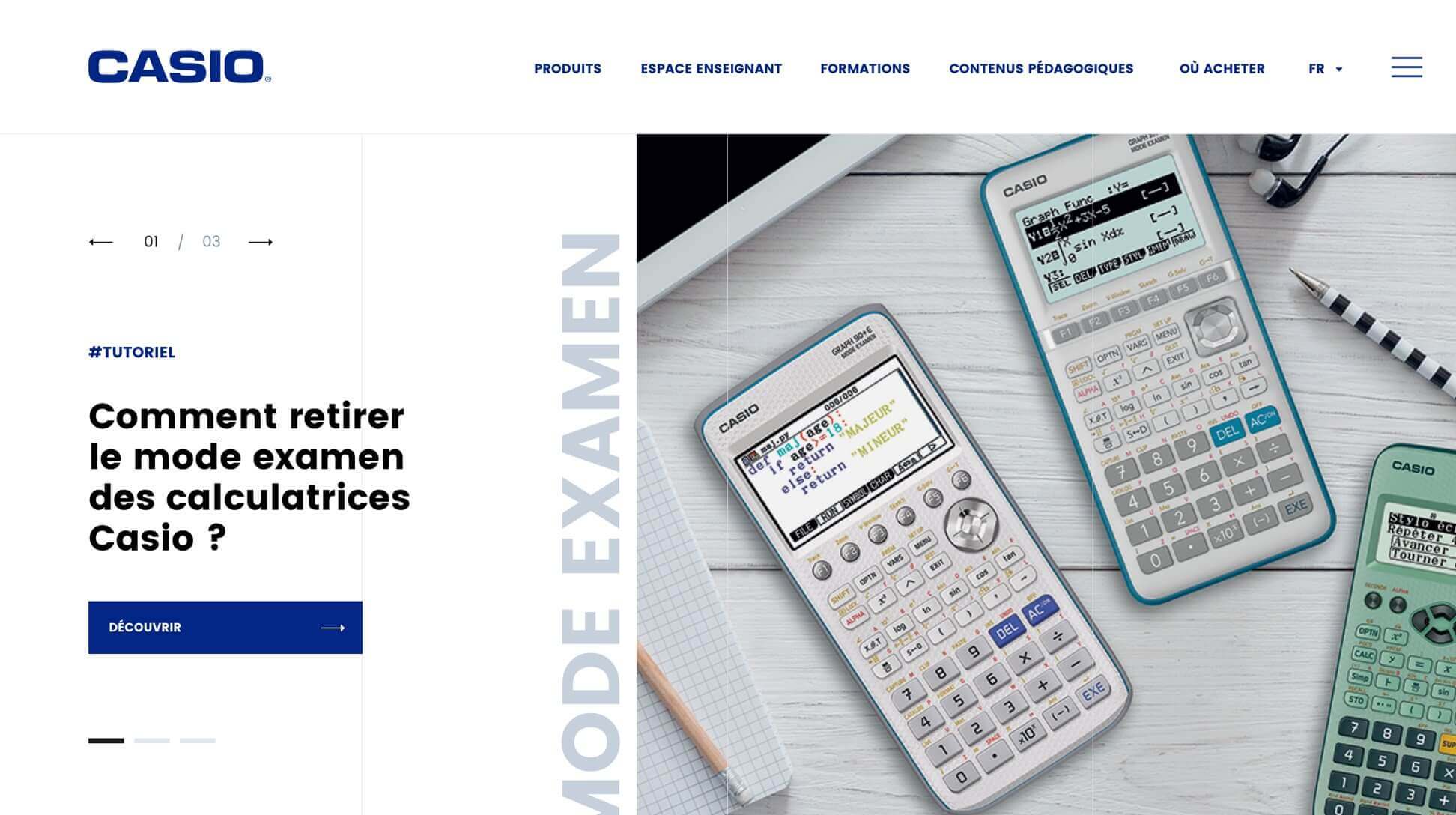 Idea #1
Casio blue makes a comeback and a statement through dense flat planes, which gives a "blueprint" feel and visually refers to technical drawings.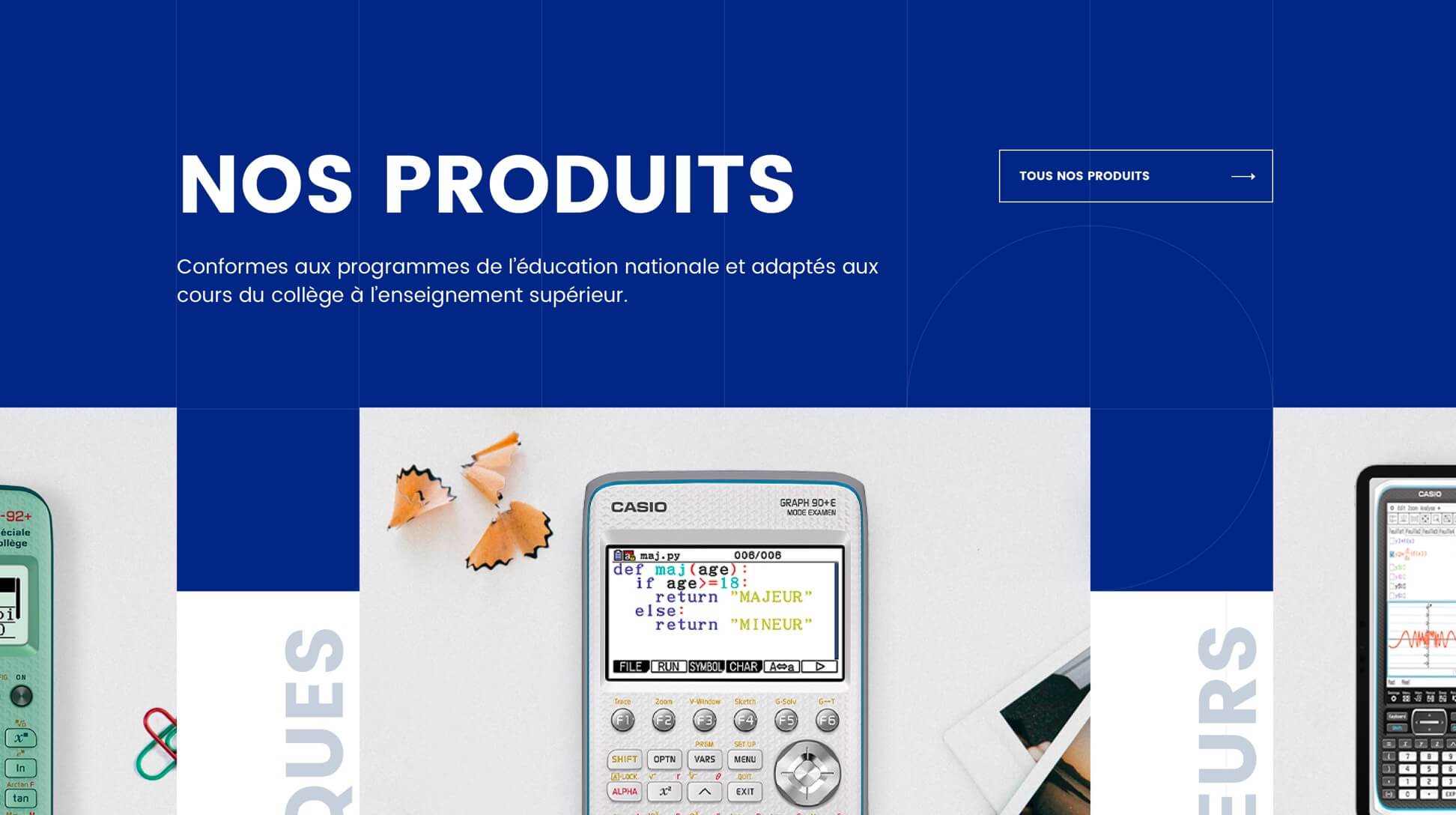 02.
Promote
content made
of teachers
Educational resources, tutorials or special offers are created by Casio to build up a special connection with its qualified target over time. Our challenge was to enhance this very specific type of content.
---
idea #1
A dedicated section in the main navigation bar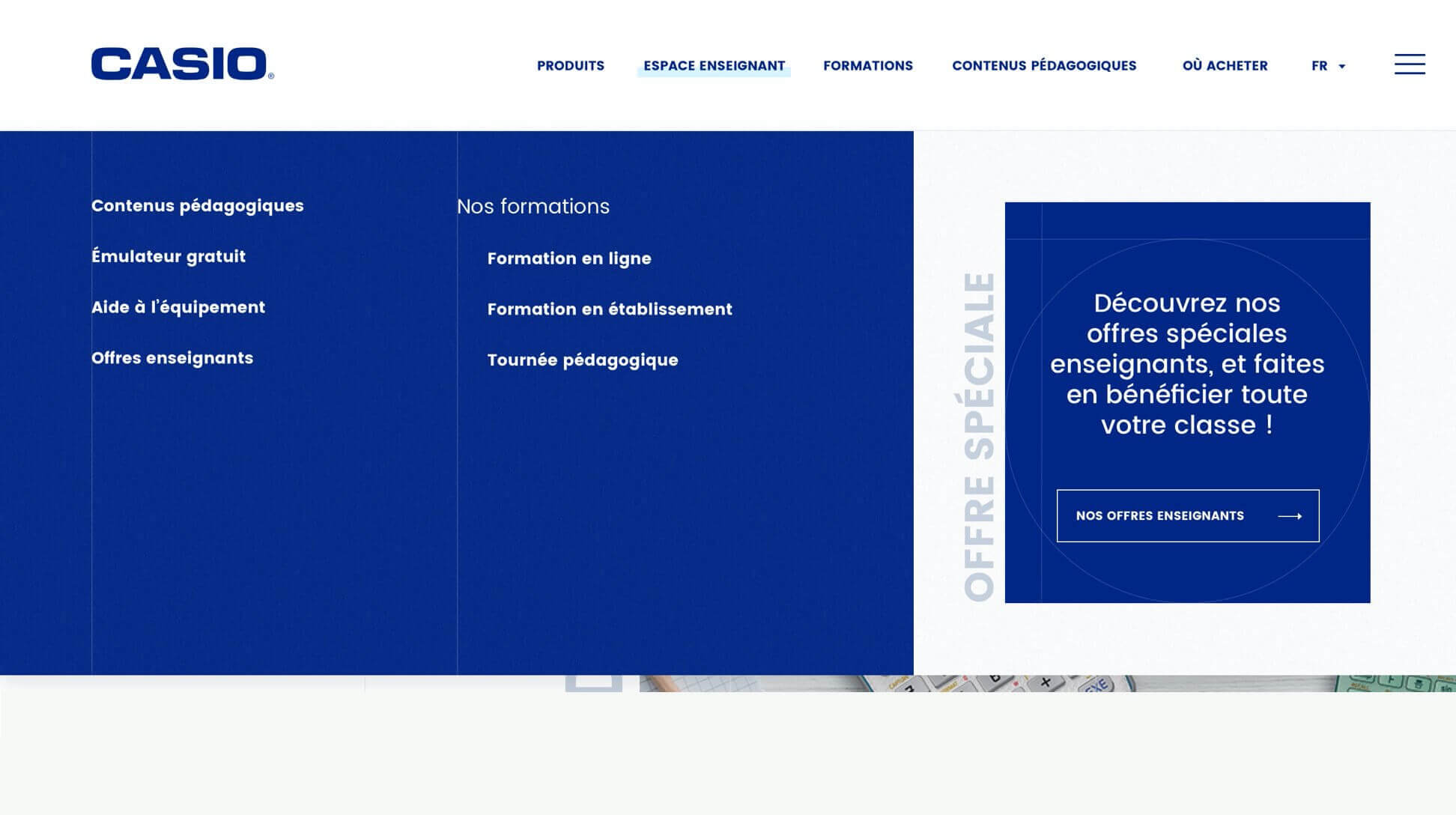 idea #2
Over 60 educational resources have been put together to help teachers prepare for their lessons. A special La Tex font has been embedded to be able to publish mathematical formulas.
---
03.
Beautify
the product
pages
We were very careful when promoting the Casio Education range. We wanted to shine a new light on the product, while obviously highlighting its main features and helping the users find points of sales.
---
idea #1
Immersive video loops to showcase the main features of each product
idea #2
Cues taken from e-commerce websites to magnify Casio products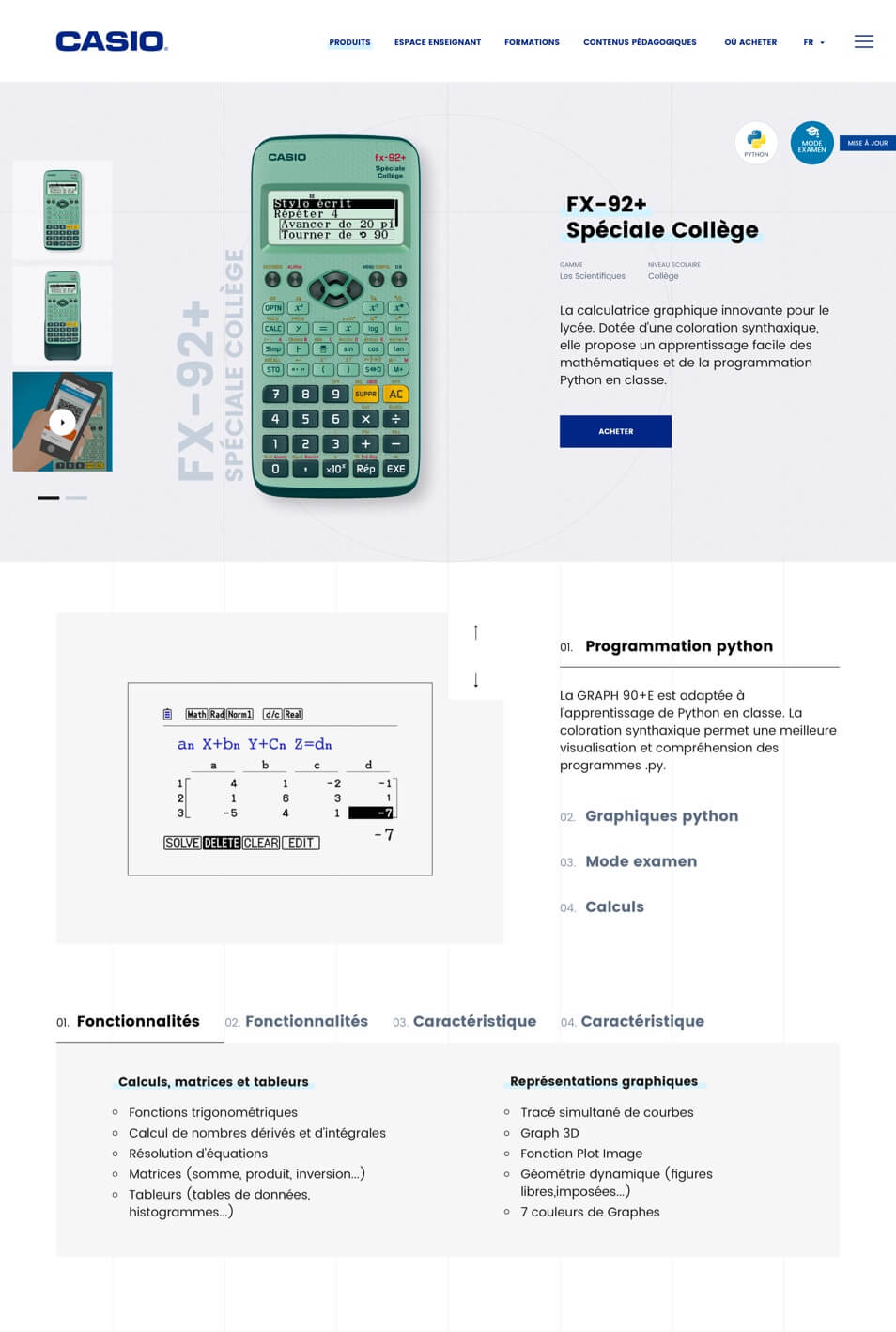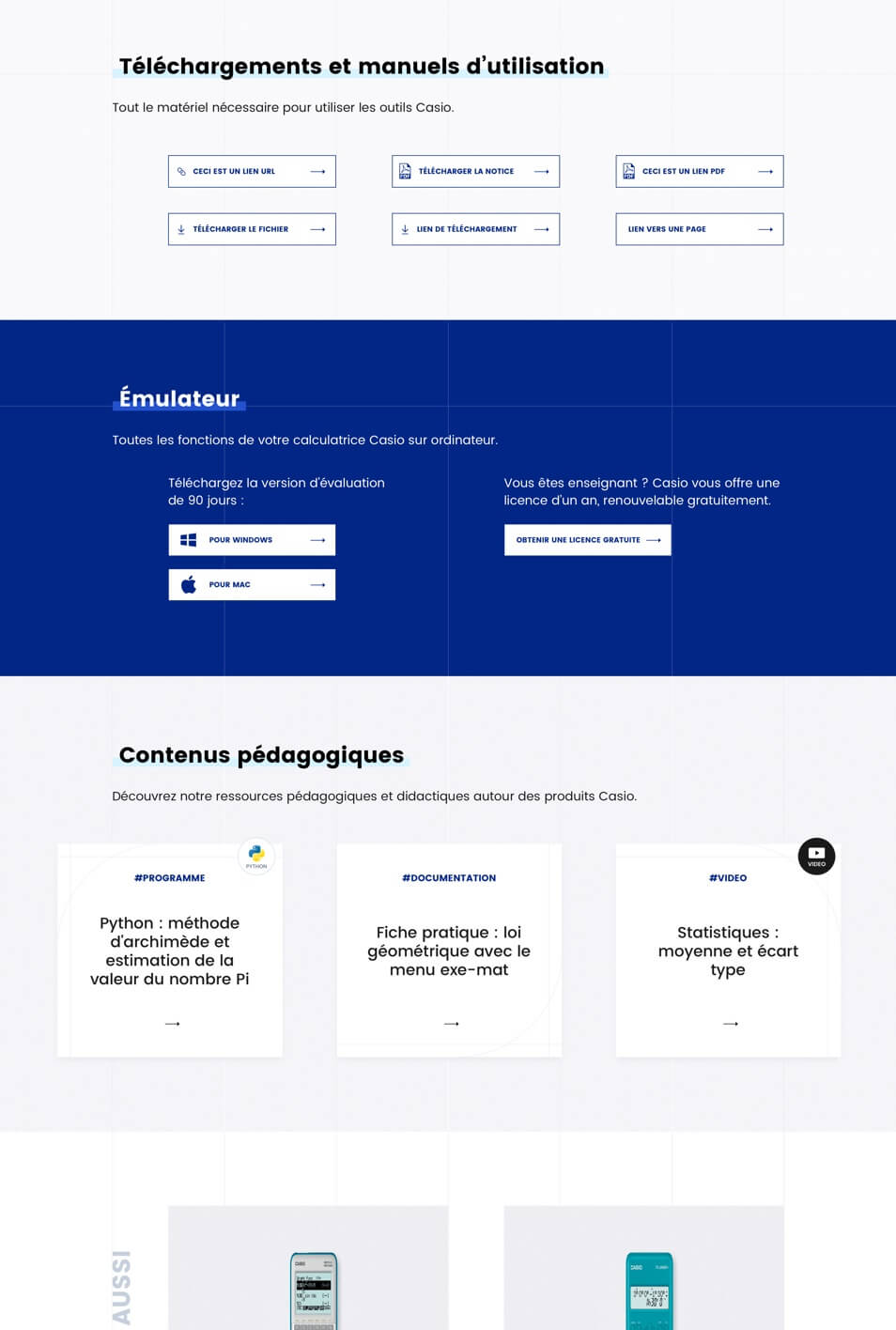 04.
Advanced teachers
data
management
Teachers are a strategic target for Casio because they are prescribers at the start of the new school year. Curating their data over time is essential.
---
idea #1
We centralized the 10 different forms present on the site in a single place inside the Back-Office to allow Casio to process these contacts more easily.
9 transactional emails have been developed and are sent automatically when actions are performed on the website or from the Back-Office. Some forms were also connected to the Salesforce interface, as requested by the Japanese group.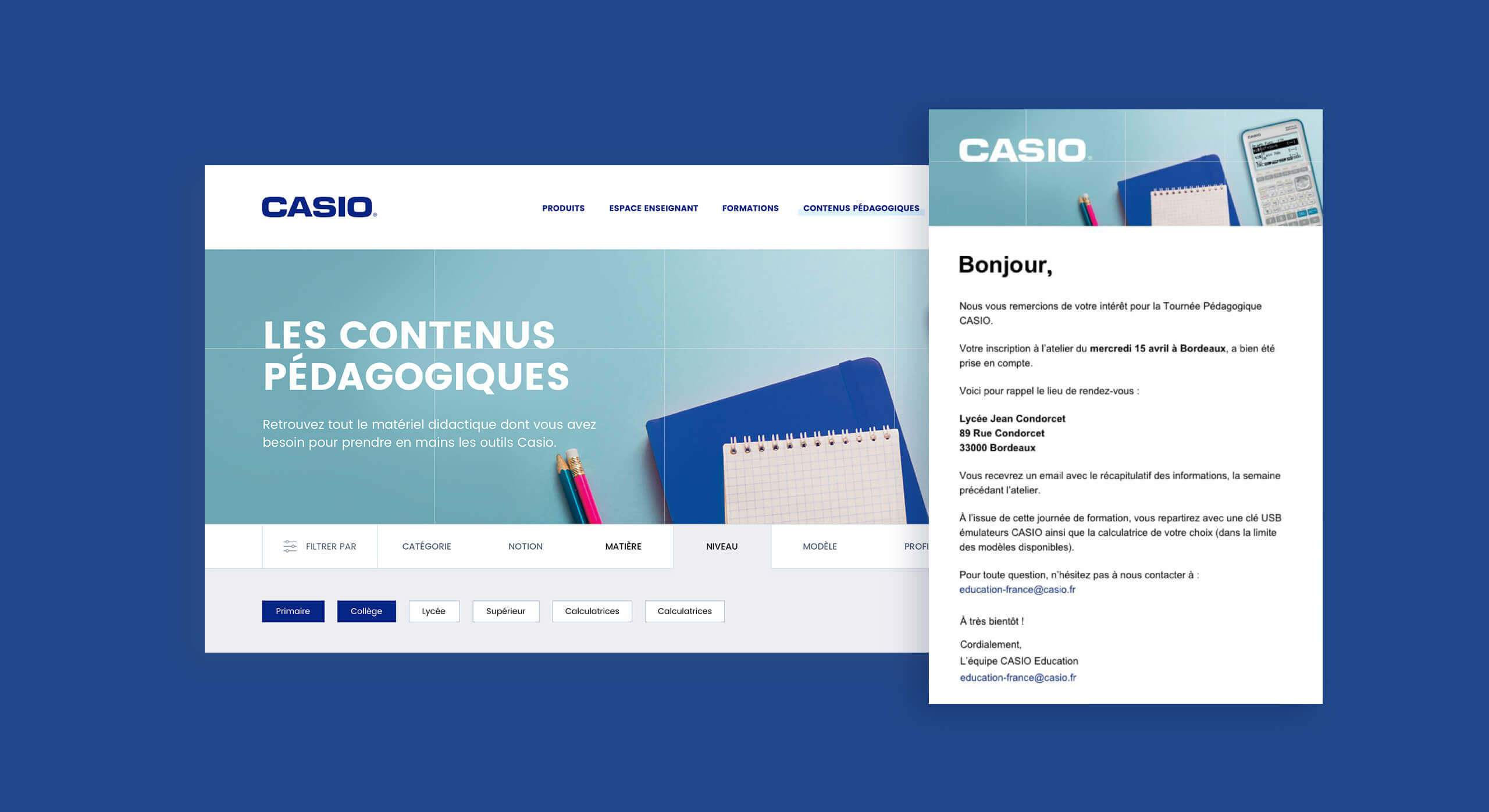 Work
together
We put all our expertise at your service in order to carry out well-thought-out and well-executed projects alongside you. We look forward to meeting you.