Remake the ecosystem
digital of a Group
on the stock exchange
Remake the ecosystem
digital of a Group
on the stock exchange
Dekuple
What we create.
Skills
UX Design
Art Direction
Motion design
HTML integration
3D Design
Adapted to SEO & RGPD regulations
WordPress development
Pipedrive Interface
The briefing
A major group in Data Marketing, family-owned and on the stock exchange (€ 140M turnover in 2020), ADL Partner focuses its development on data-driven marketing innovation and remains particularly attentive to acquisition opportunities in complementary areas. The Group founds to clarify its image and its offering to its audiences.
The mission

Create a clear demarcation between the Group's corporate information and the promotion of its commercial activities, while bringing them together under a common graphic identity.
Our solutions
01.  Creation of a Corporate site presenting the Group, its activities and its CSR policy
02. Creation of a business-oriented website to highlight the expertise linked to the marketing and creative performance that the Group makes available to its customers.
01.
Creation of the Group website, corporate and augmented
The ADL Partner Group changes its name and becomes Dekuple. On this occasion, a new modern graphic charter at the service of people and data was created.
---
The patterns are directly inspired by the Dekuple monogram. They convey connection, movement, speed and data; a new colorful graphic territory that reflects the dynamism of the Group to grow and multiply the marketing performance of its customers.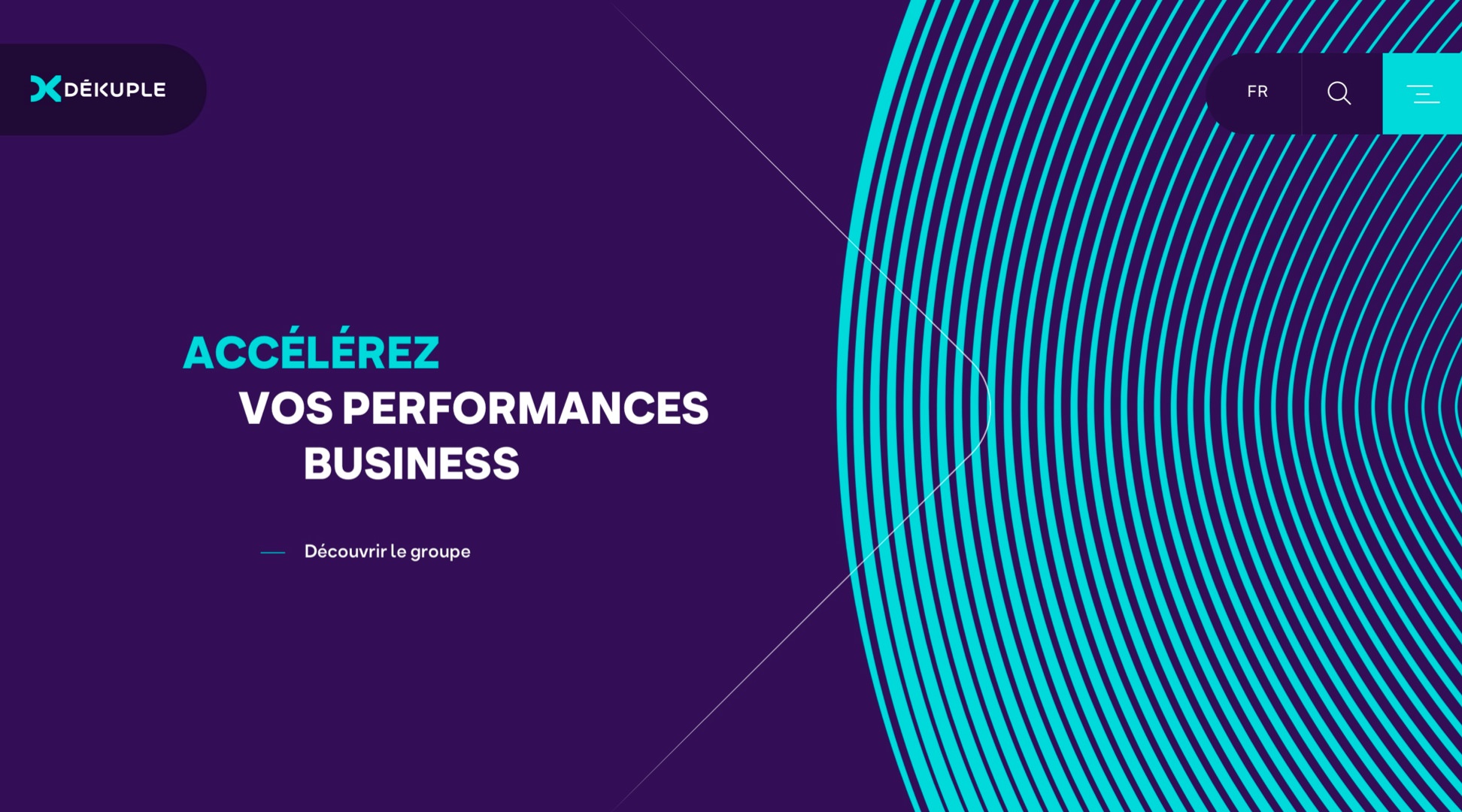 We have refined this new graphic identity by applying it to digital: color schemes on the scroll, animated transition when moving from one page to another, interactive cursor when hovering over clickable areas … So many micro-interactions that multiply the news tenfold. Group identity on the web.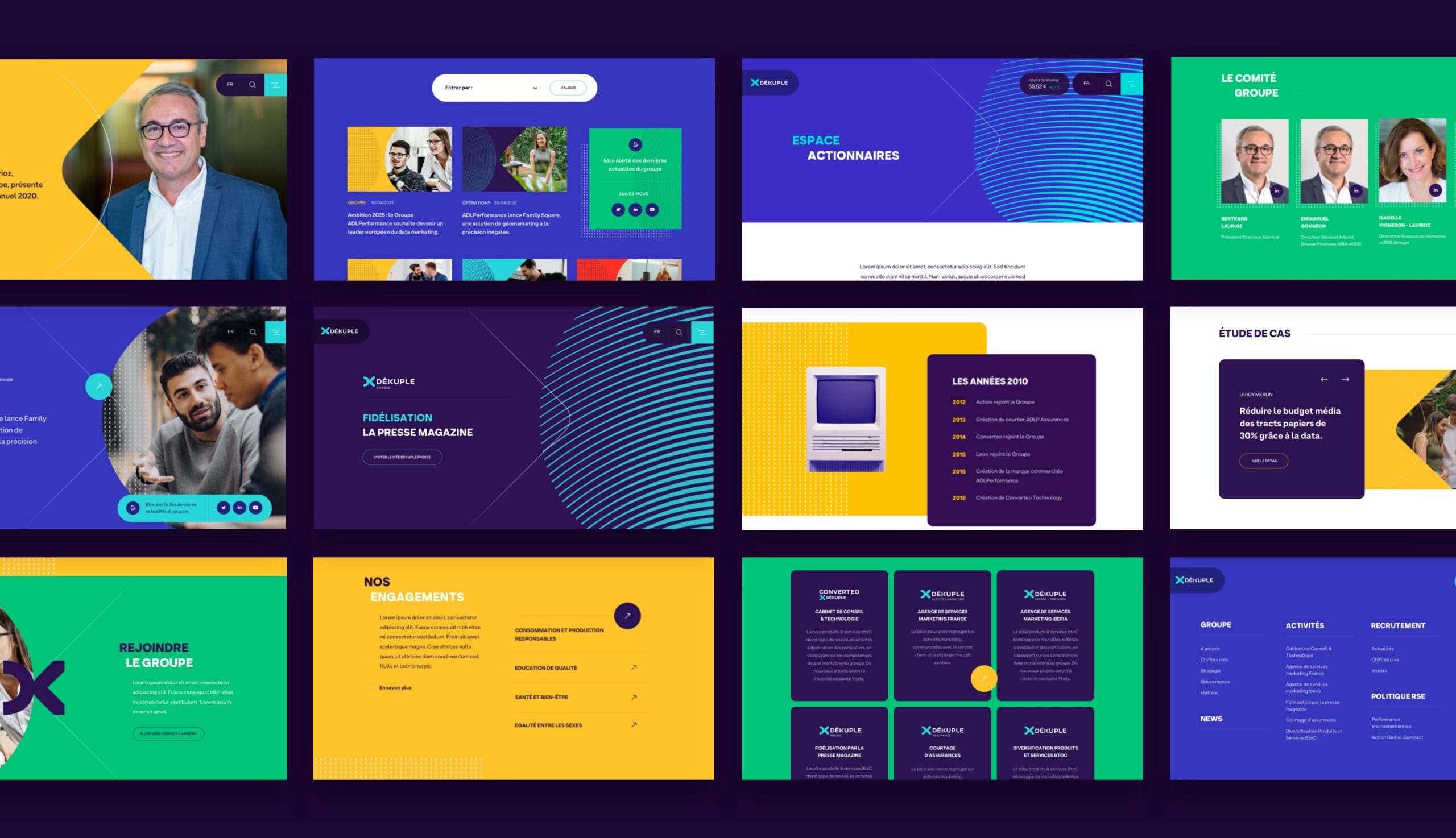 Technically developed on WordPress, the website is connected to a Stock API in order to know the business price day after day. An alert system has also been developed for each new publication of a news item (financial or not).
---
02.
Creation of the agency's website,
business oriented
We have created another website for companies wishing to boost their marketing performance in a sustainable way. This offer is the merger of several of the Group's expertise. It provides solutions for the entire marketing funnel: from acquisition, through activation to loyalty.
By using the graphic codes of the Group's new charter, we have created an impactful and creative showcase site that represents the new image of this grouping of expertise.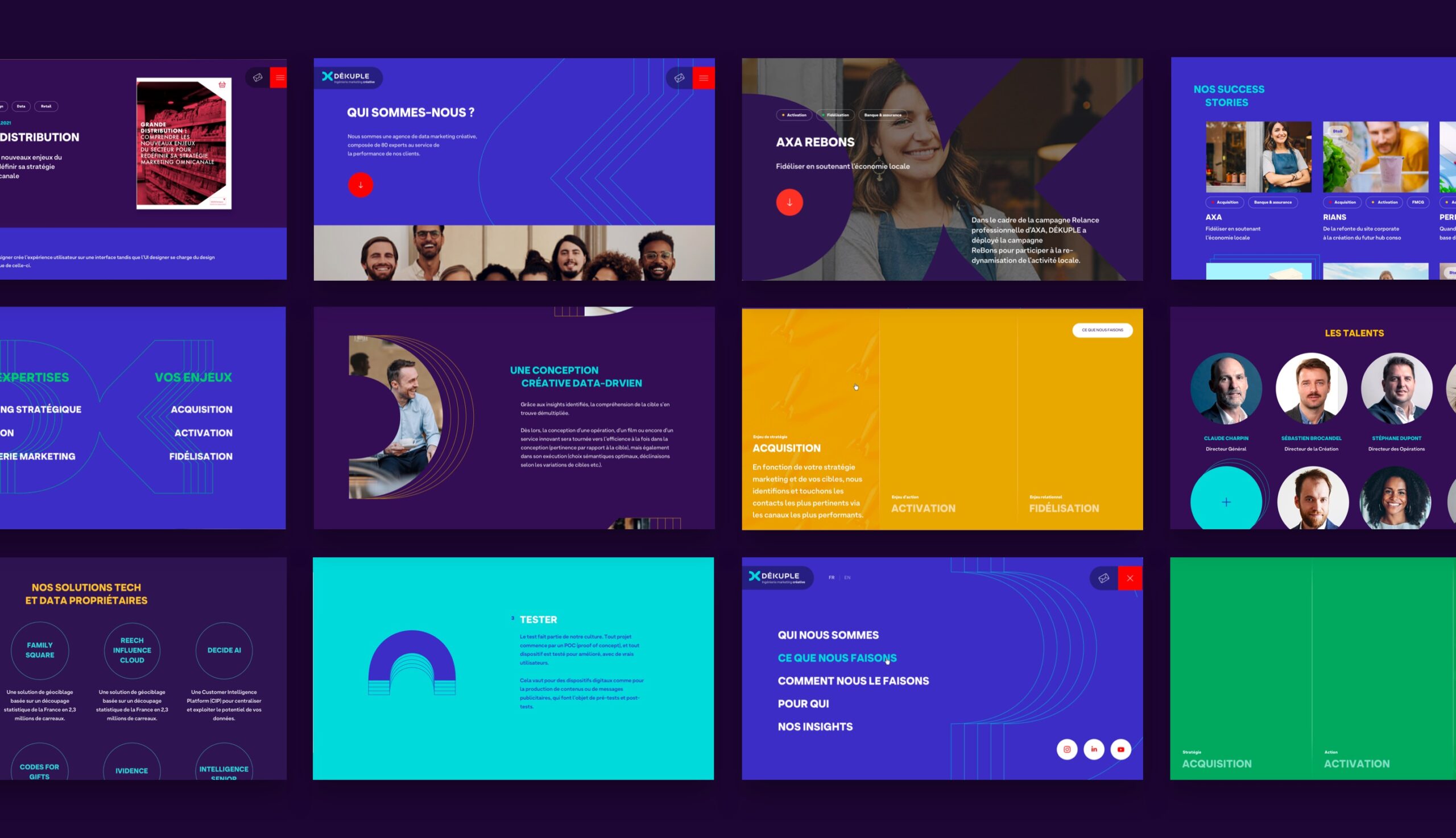 Technically, we built it to encourage making contact, from business request, to recruiting talent and sending white papers.
Work
together
We put all our expertise at your service in order to carry out well-thought-out and well-executed projects alongside you. We look forward to meeting you.