To reflect
international
expecatations
To reflect
international
expecatations
Meteo*Swift
What we create.
Project type
Identity & Branding
Website
Sectors
Renewable energies
Technology
Skills
UX Design
Art Direction
HTML integration
WordPress development
Adapted to SEO & RGPD regulations
The briefing
Météo*Swift provides highly accurate wind and solar production forecasts. Their service enables large-scale integration of renewable energies into the power mix. As it is experiencing fast-paced growth in France and abroad, Météo * Swift wants to take a new step in its development and adopt a visual identity that asserts its legitimacy.
The mission
How would new graphic guidelines help the brand grow and boost its credibility?
Our solutions
01. A new iconography tailor made to the fit the company's image
02. A new website designed as a real business prospecting tool
03. New office tools to match the new graphic guidelines
Bien-Fondé was able to familiarize itself with the complex issues of our industry to offer us a new, wonderfully well-made digital identity.
In addition to a quality achievement, it is a real pleasure to work with such a dynamic, efficient team that listens to our needs.
---
---
Idea #1
The new graphic identity is based on two main colors: a gradient of electric blue in reference to the sector of activity associated with a green, reminiscent of nature and its elements.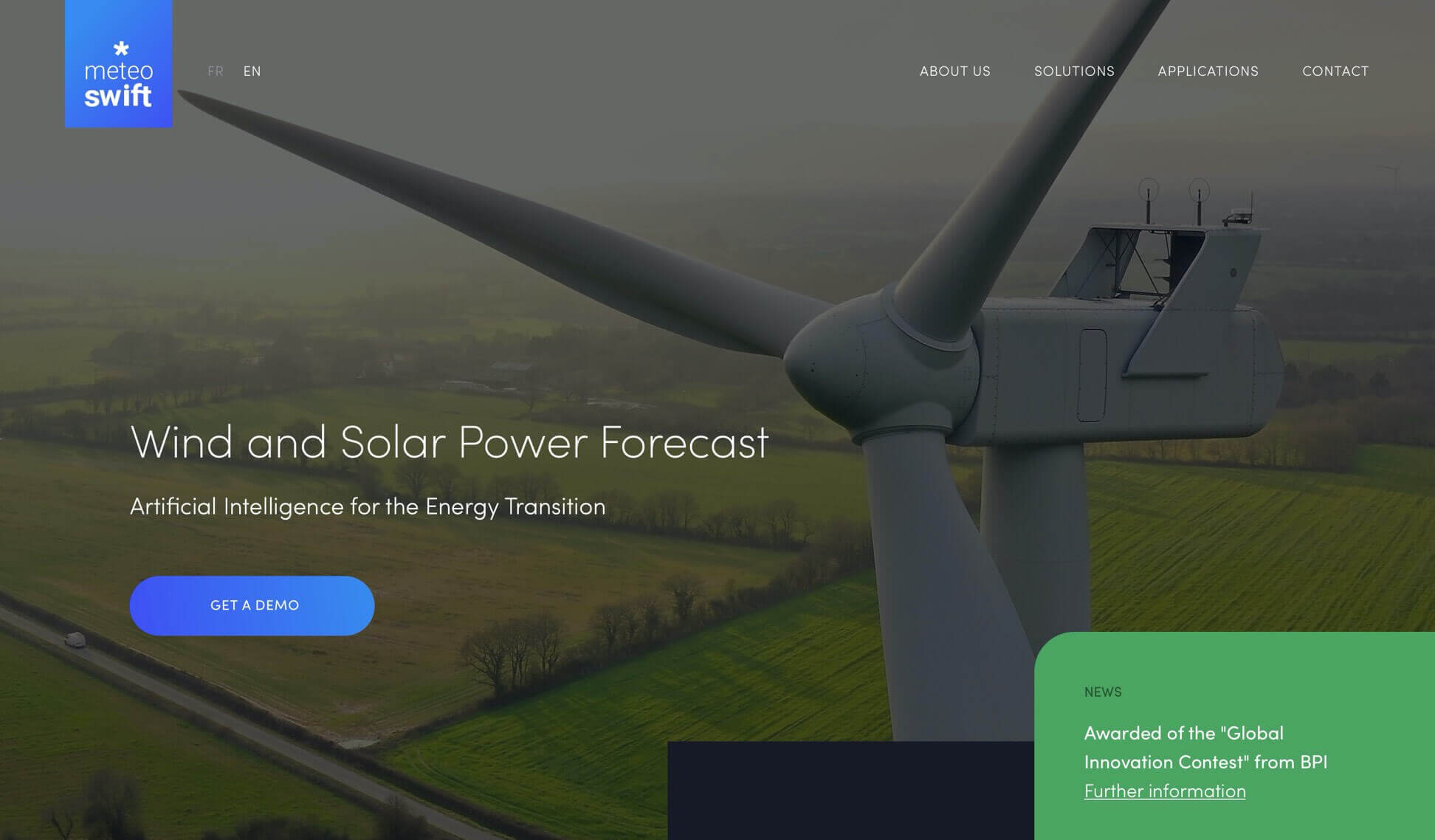 Idea #2
Modernity and technology
The dark background allows you to enter a very tech universe, dotted with grids, which refer to models, as well as point clouds, illustrating the data and networks of artificial intelligence.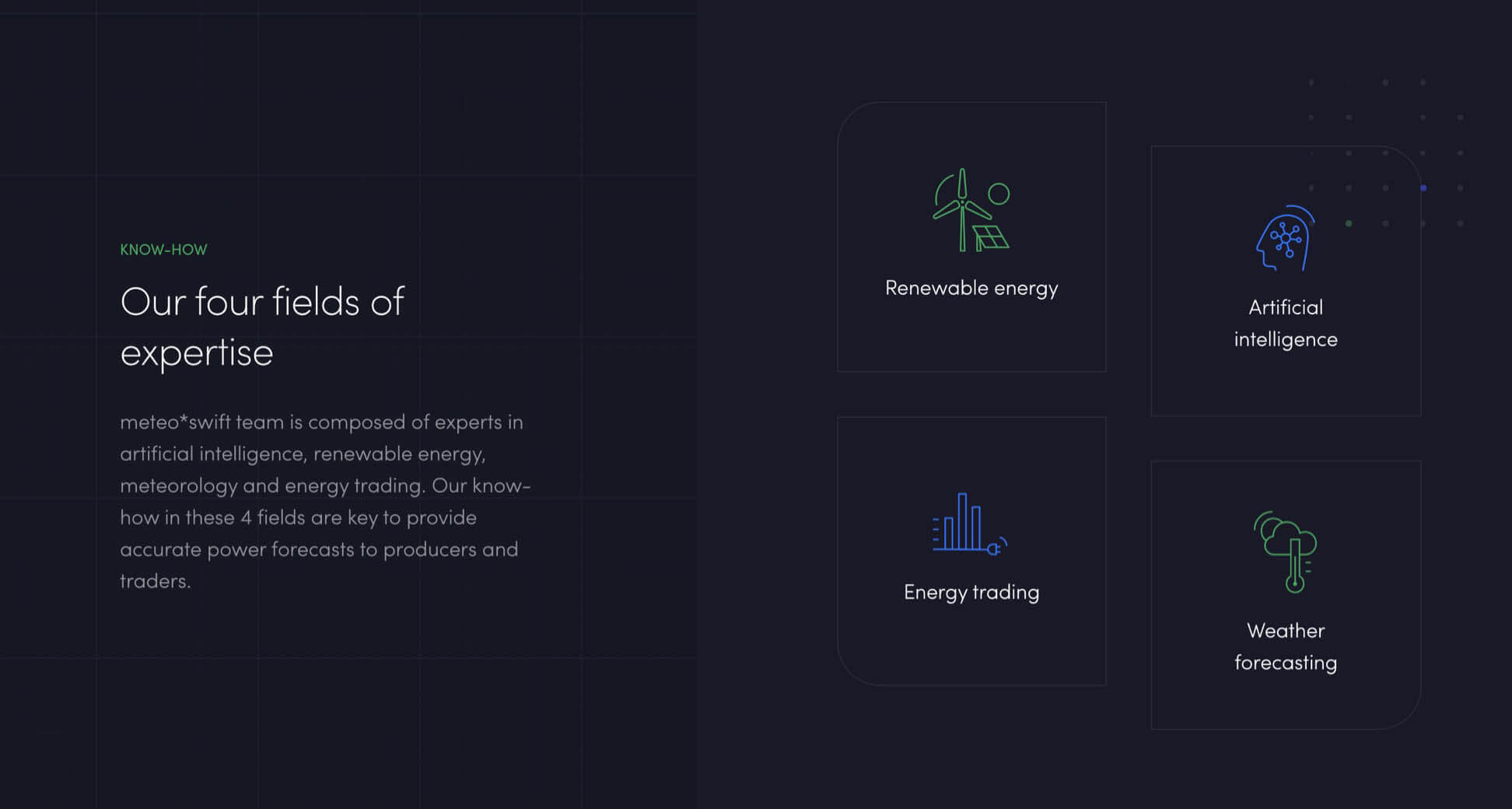 Idea #3
Handmade icons
Pictograms represent the 4 legitimate areas of Météo * Swift. They are made of rounded shapes to make the information easier to understand.
---
02
To acquire
new
customers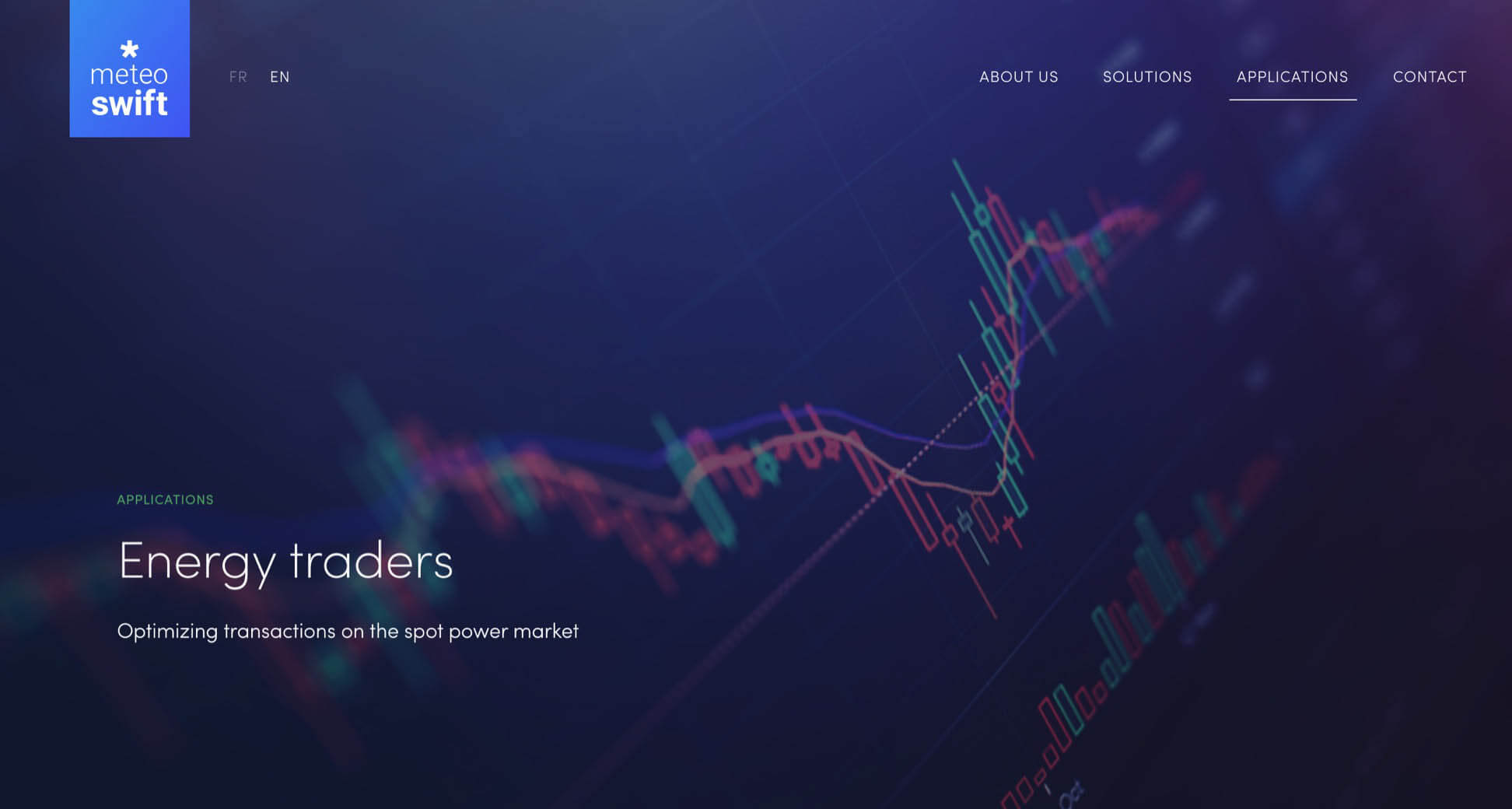 Idea #1
We chose to design a modular website allowing Météo * Swift to create their own content pages and become completely independent over time.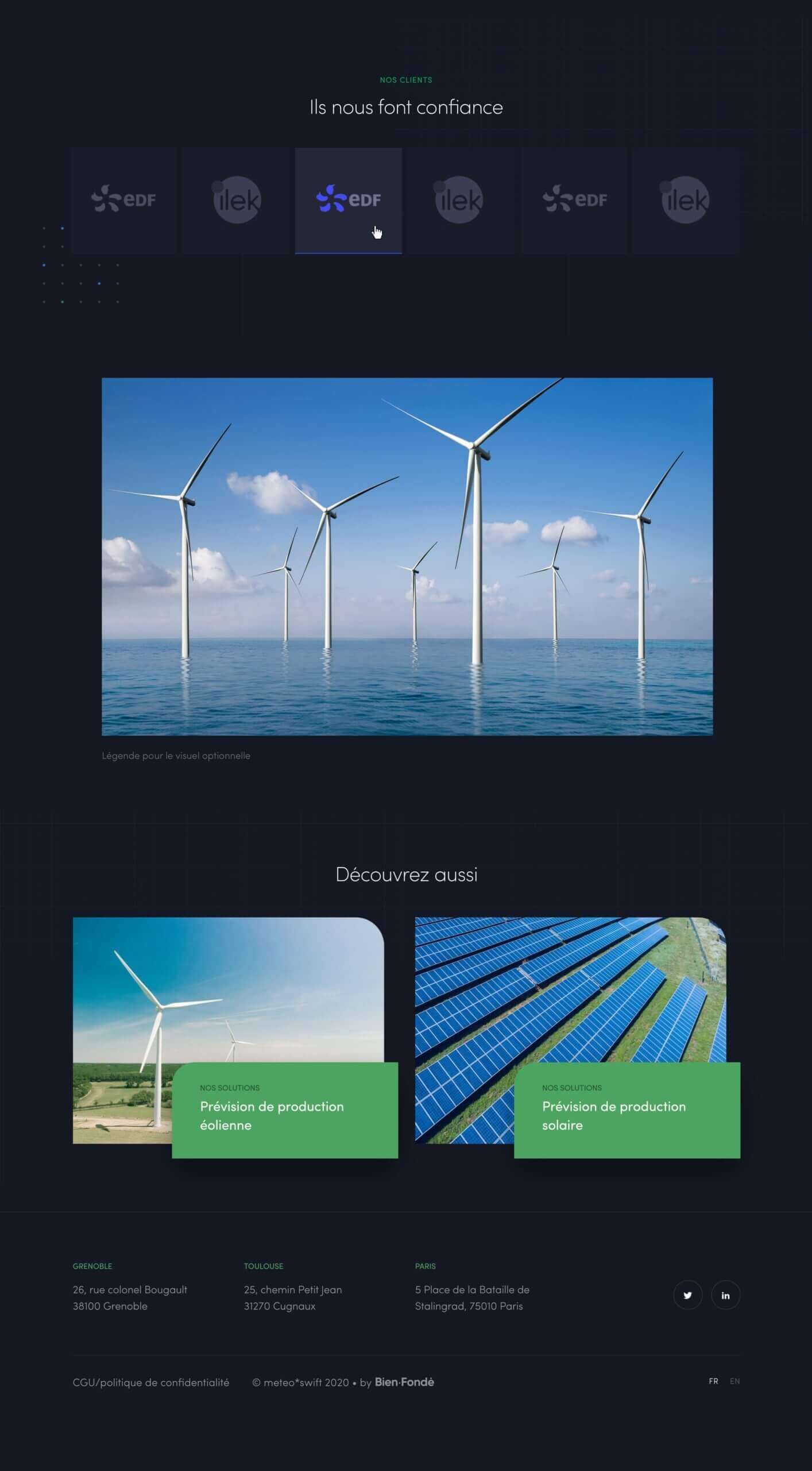 Idea #2
We made sure that all the website pages would lead prospects to be able to contact the company, in order to promote its commercial development.
---
03.
Adapt all
of their
office tools
---
The company's Office suite (Powerpoint presentations, Word, etc.) layouts have been updated to reflect the new era in which Meteo*Swift is entering.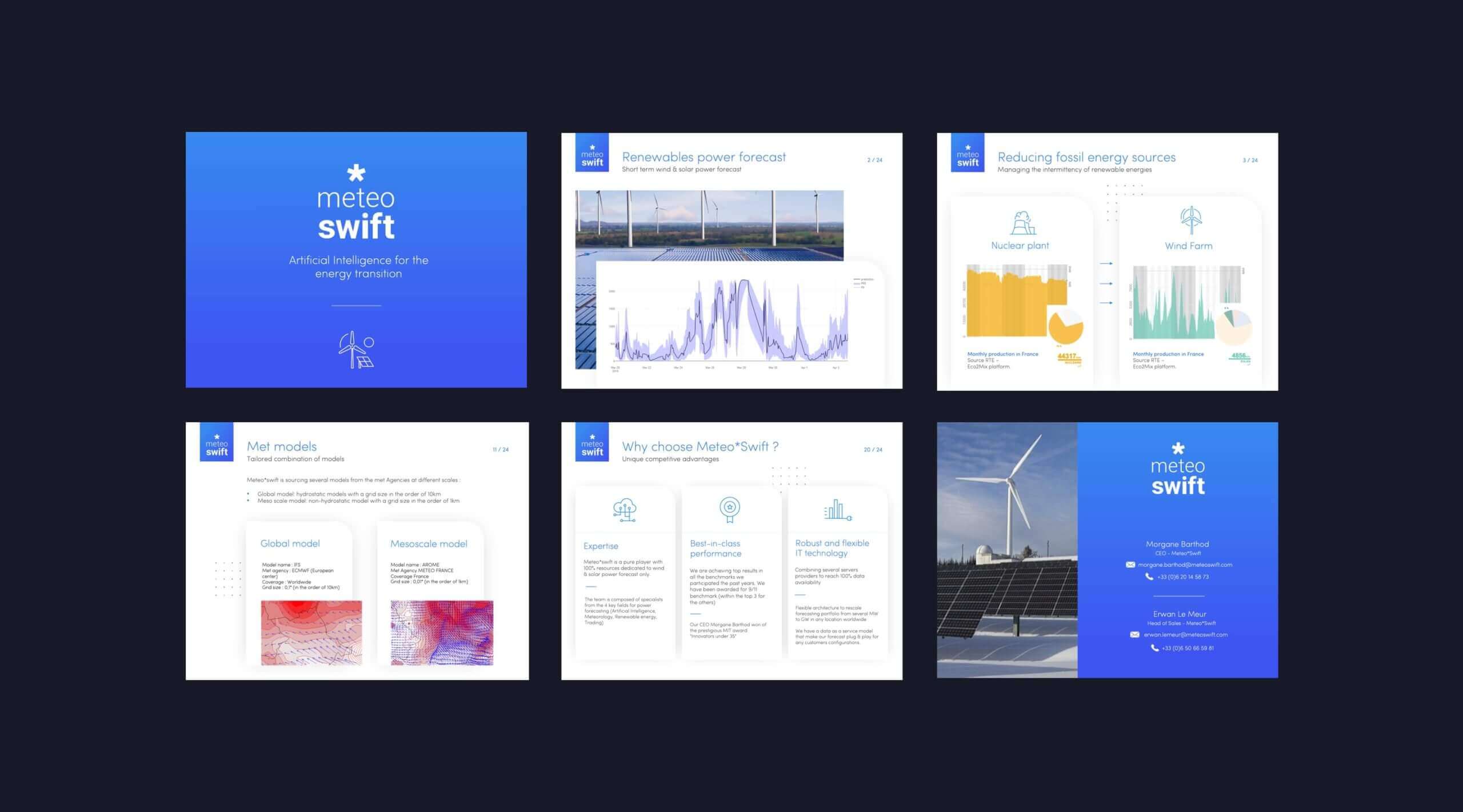 Work
together
We put all our expertise at your service in order to carry out well-thought-out and well-executed projects alongside you. We look forward to meeting you.