Good accounts make
good opinions
Good accounts make
good opinions
BNP Paribas
What we create.
Project type
Mobile App
Product interface
The brief
Ma Banque Entreprise is an online service for professionals. It allows users to monitor and control their accounts, carry out banking transactions in complete security, and access and manage their e-services. Wishing to modernise its interface in terms of graphics and ergonomics, BNP Paribas called on the agency.
The challenge
How to make a platform essential to professionals more modern, fluid and dynamic?
Our answer
01. A new, more dynamic graphic identity.
02. New, more intuitive functions that highlight BNP Paribas' offers.
03. A collaborative working method to be as close as possible to expectations.
01.
A new, more dynamic graphic identity
In order to meet the requirements of BNP Paribas, the agency has implemented a new graphic identity. New typography, more adapted blocks... thanks to this new identity, navigation seems more pleasant, it is easier to handle and the information is highlighted in a more digestible way. The agency opted for colour gradations that bring dynamism to the interface.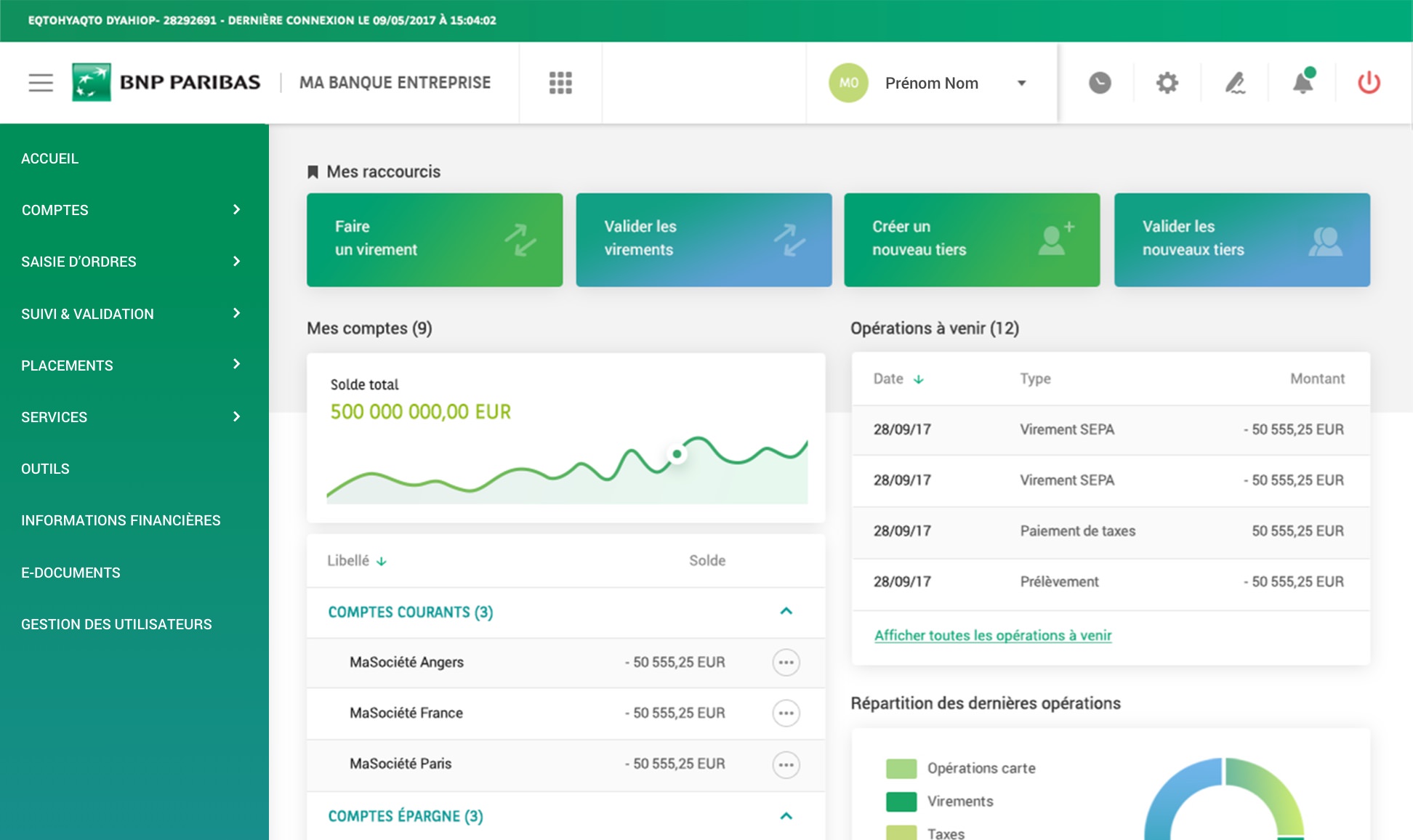 02.
New, more intuitive features that highlight BNP Paribas' offers

---
idea #1
New tools to facilitate customer actions
In order to meet the requirements of this professional target group, we worked to facilitate their actions. Thus, the agency has set up a Dashboard which, in addition to offering an overview of the account, allows the monitoring and easy exploitation of data in the form of graphs.
This new tool has shortcuts to the most frequently used functions and makes it easier to find your way around the platform. We have also opted to redesign the order entry section by improving its ergonomics and simplifying its use. Still with a view to optimising day-to-day account management, we have set up a chatbot. This is a way for customers to save time and for BNP Paribas to free up time for its account managers.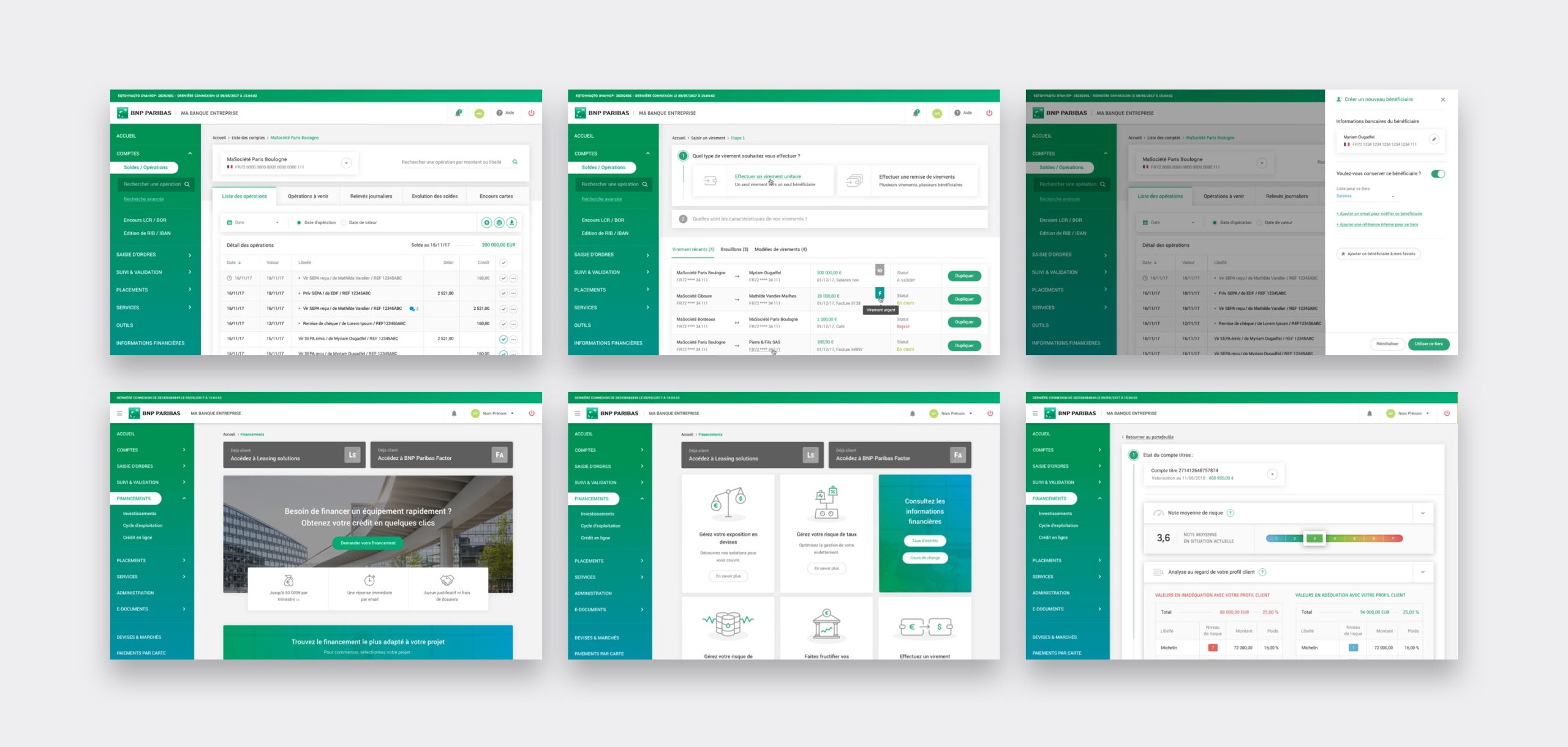 idea #2
Services adapted to customers' needs
By working on the implementation of a "Corner Servicing", the agency has developed a tool that centralises all the actions most executed by the client.
This new module also makes it possible to find specific answers by selecting the right forms.
Finally, we have established a sales push system. In addition to promoting the sale of BNP Paribas products, it offers solutions in line with customers' needs.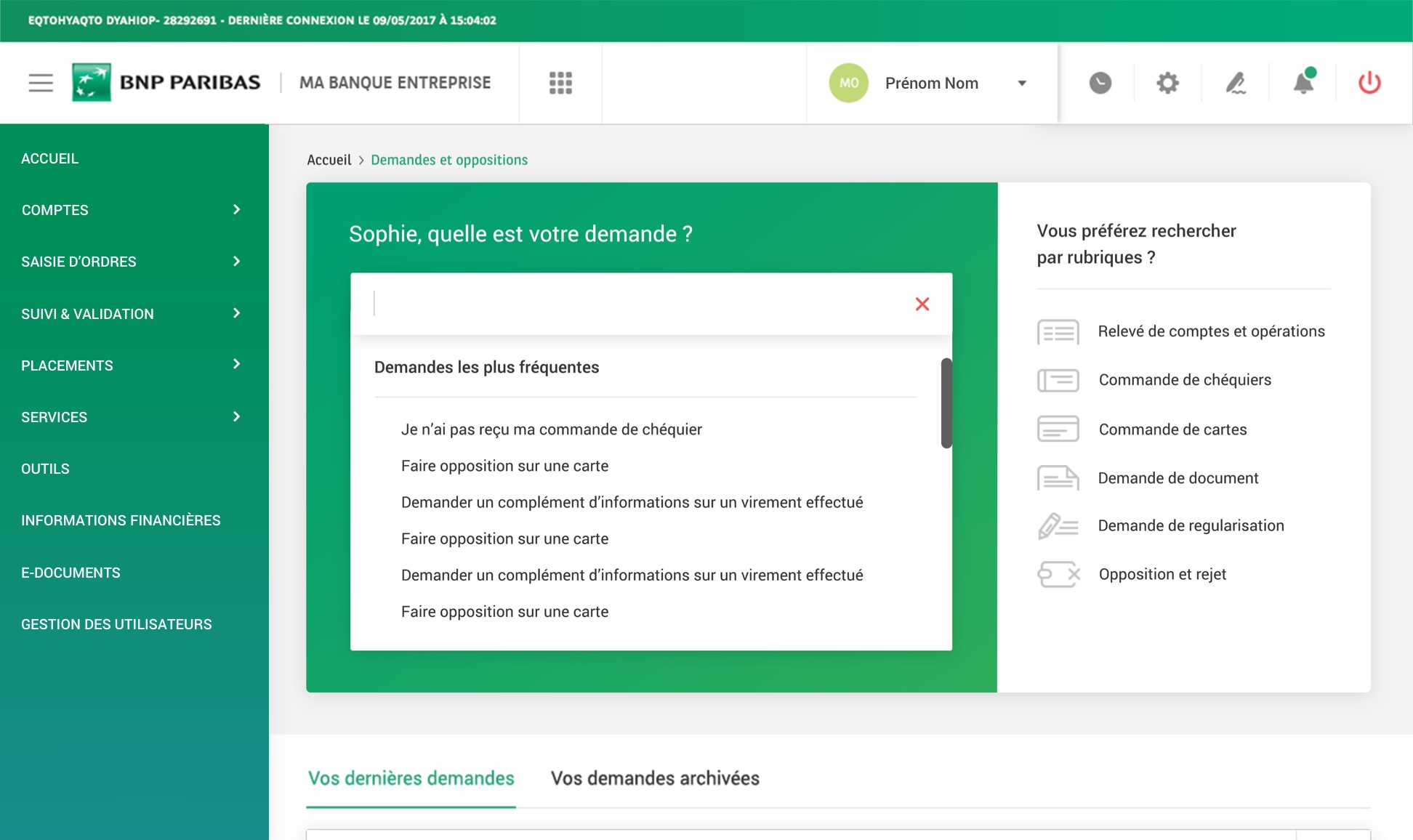 03.
A collaborative working method to be as close as possible to expectations
To ensure that the project ran smoothly, the agency applied the Design Thinking method. Several tests were carried out with real clients by submitting several model proposals to them. This allowed us to gather their opinions and adjust our proposals.
We also organised a number of workshops with the various BNP teams to discuss uses, possibilities and technical constraints. These exchanges enabled us to establish the challenges of each section and thus to give a framework to our work.
Work
together
We put all our expertise at your service in order to carry out well-thought-out and well-executed projects alongside you. We look forward to meeting you.